The Empire Strikes Back

Tony Bromham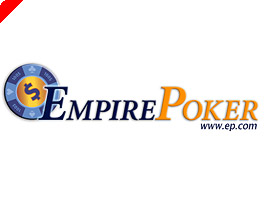 Empire Online Limited, the quoted stock market company that was recently embroiled in a dispute with Party Gaming plc - owner of Party Poker - has announced a trading update for the first quarter of 2006.
On the bare numbers, Empire have been unusual in that they have reported a sharp drop in poker activities, but of course this is due to the loss of access to the Party Poker player base. However, in return, they have received a vast cash settlement from Party Gaming plc.
The company says that the dispute arising from Party Gaming plc's split of the
Empire Poker platform was successfully concluded and resulted in a settlement which included a payment of $250,000,000 to Empire.
Empire states that its remaining online platforms (primarily Noble Poker and Club Dice Casino) have continued to grow throughout the quarter to 31st December 2005 and through 2006 to date in line with management expectations. It says this growth "will continue to form the bedrock of Empire's continuing development."
Empire now holds cash of $259,000,000 on its balance sheet at 31st March 2006 and intends to diversify and look for suitable acquisitions beyond the USA. These might include "complementary gaming businesses in such areas as sports betting, skill-based gaming and soft-gaming niches such as bingo. In addition, the company is exploring further poker and casino acquisitions."
Empire goes on to say that it is looking to introduce "shared wallet technology and more effective cross-marketing between complementary gaming channels."
Commenting on the trading update, Noam Lanir, Chief Executive Officer, said:
"I am delighted to report on such strong growth in our core businesses. Empire Online is in a strong and stable position and I look forward to this year being one of further progress for the company through the continued growth of our existing business and additional growth from the acquisition programme which will diversify the Company's product and geographic reach."
The trading highlights included:
- Number of new real money players across all gaming platforms excluding Empire Poker has risen by 36,242 for Q1 2006, which represents an increase of 12% over Q4 2005. The number of new real money players across all gaming platforms increased by 44,217. Non-US players accounted for over 50% of all new real money sign-ups in Q1 2006.
- Total Company net gaming revenue for Q1 2006 was $21.1m (Q4 2005: 22.5m; Q1 2005: $24.4m). Net gaming revenues across all gaming platforms excluding Empire Poker for Q1 2006 were $17.6m, an increase of 42% on Q4 2005.
- Total Company Casino revenue of $15.3m (Q4 2005: $11.2m; Q1 2005: $5.6m).
- Total Company Poker revenue of $5.8m (Q4 2005: $11.3m; Q1 2005: $18.8m).
- Estimated earnings before interest, taxation, depreciation and amortisation (EBITDA) and non-recurring exceptional items of approximately $8.5m (Q4 2005: $8.8m; Q1 2005: $12.0m).
Ed note: Freeroll your way to the WSOP! Download Titan Poker for this exclusive opportunity.