Betfair to pick up $1,000,000 WSOP tab

Paul Sandells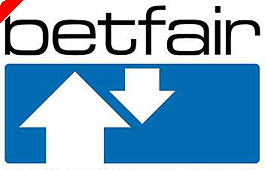 Betfair Poker is offering an unlimited number of seats for the World Series of Poker. One of the most popular sites on the Cryptologic poker network estimates the tab for this promotion to be a cool 1 Million Dollars.
The stage is set for what will almost certainly be a record year at the 2006 WSOP. There are so many ways to qualify it can make getting there a little confusing. Of course, the best way is via the Poker News WSOP Freerolls. However, if you can't wait for those and want to buy your way into a super satellite, you could do much worse than trying Betfair Poker.
"We expect to spend over $1 million sending players to the World Series. With offers like the Threedom Pass, we have added value to the proposition," said Betfair's Head of Poker, Ben Fried.
At the WSOP the Threedom Pass will be worth $45,000. Absolutely outstanding value in anyones book.
It is estimated that online qualifiers will make up 90% of the runners in this years main event. With almost every online poker room offering some kind of route to Las Vegas this summer, it seems likely that the recent trend of online poker players winning the main event will continue.
This Easter weekend is a great time to open your Betfair Poker account. Over £50,000 is up for grabs in Betfair Bunny's Easter Weekender. Some of the prizes include:

MPP Prize Draw - Earn one blue prize chip for every 10 MPPs you earn. Each chip puts you into the prize draw for some outstanding prizes.

Betfair Bunny Bounties - Take a £100 bounty on the Betfair Bunny in two £5.50 MTTs this weekend.

£5,000 Added - This £10 buy-in is limited to 500 players. With £5,000 added that effectively makes the buy-in £20. Great value.

£50,000 Guaranteed - Hit the big time in this monster tournament. With 33% more winnings.
Ed note: There has never been a better time to download Betfair Poker. Smart minds Betfair this Easter Weekend.