First Timer Takes Betfair Poker Ladies Event

Paul Sandells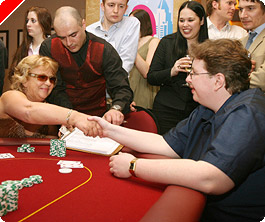 The Betfair Poker Ladies Night Live final took place late last week. Thirty ladies claimed their seat in the final with newcomer, Angela Thacker, from Halifax, taking first place.
Betfair Pokers search for the Betfair Poker Goddess concluded in a night of high tension and drama. A diverse field of players ranging from professionals to rank amateurs took part in this special event. The evening was certainly a well dressed and very glamorous affair.
On offer for the lucky winner was a prize to the WSOP Ladies Event, in Las Vegas. There was also a £3000 prize pool on offer for those unlucky to miss out on the top prize. Every lady at the final table made the money.
As the evening drew on, three ladies were left. Francine Brandler, Vera Duffy and Angela Thacker. Angela had a big chip lead at this stage and appeared to be the favourite to take the top prize. That was, until, she doubled up the short stacked Vera. Angela recovered and knocked out Francine with trip twos. The heads-up battle commenced.
Vera, a 61 year old grandmother from Ireland, staged a superb come-back. After pulling herself almost level in chips with Angela, Vera moved in with a flush draw. Angela called with a pair of fours. The flush never came and brave Vera lost out to a very worthy champion.
Speaking after the event, Angela said: "It's brilliant, absolutely brilliant. I've never been to London before, let alone Las Vegas. This is my first experience and I've absolutely enjoyed it. The world is wide open." Unlucky but gracious, second placed Vera said, "There's no sour grapes, it was fantastic. It was run brilliantly, I thoroughly enjoyed it. I flew over here and I had a blast."
Betfair Poker's spokesman, Ben Fried commented: "The sportsmanship and camaraderie between the players is something that the men should watch and learn from. Remember poker is fun, and these ladies certainly had some of that. Well done to Angela she's done brilliantly and we will be supporting her all the way at the WSOP."
Vera Duffy left with the parting shot: "I think women are starting to realize that they can be as good as the guys and maybe even better."
UK Poker News wishes Angela Thacker the very best of luck in Las Vegas this summer.
Ed note: Qualify for the WSOP with Betfair Poker. Download Betfair Poker here See you in Vegas!