John Gale reports from The Bellagio

John Gale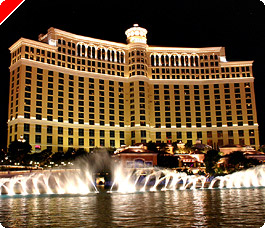 UK Poker News contributor, WPT winner John Gale, is currently flying the flag in Las Vegas at the Fourth Annual Five-Star World Poker Classic at the Bellagio, a venue of previous multiple successes for John a few months ago. This time round, it is not so smooth but there is still the Main Event to come.
Hi everyone! I hope you all had a good Easter.
I'm out in sunny Vegas where the weather is mostly fabulous but inter-mingled with hurricanes of about 300 miles per hour. Okay, maybe a slight exaggeration, but they sure are strong.
The Dutch are flying out here. Noah Boeken has cashed a couple of times, and both Rob Hollink and Marcel Luske have won a preliminary event. I am delighted for Marcel who is one of the nicest guys in poker and definitely one of the best players.
As for the Brits, it is not so good although both Paul Alterman and David "Devilfish" Ulliott made a final table. All of the big-name Brits are out here but with little success so far. Still, the Main Event starts tomorrow so I hope we all do better.
Last December at the Five Diamond Classic here at the Bellagio, I played 11 tournaments and had five cashes, making three final tables, winning two events and finishing second in the other. It was a fantastic festival which I naturally thoroughly enjoyed.
This time, I have played ten tournaments, with results as follows:
- Final tables - ZERO;
- Cashes - ZERO;
- Suck-outs - Too numerous to mention!
I must be running foul of the Poker Gods at present, so I am going to offer up a human sacrifice to them this evening in the hope of appeasing them. Davood Mermand?
The tournament structures out here are great with double the starting chips for the entry fee, so tomorrow, with 50,000 chips - and a bit of good fortune - I may survive the first two levels.
I think I'm playing well and getting pretty unlucky, so I am going to revert back to my old style of play for the Main Event which is playing garbage and getting lucky! Let's see how that fares.
My wife Shirley and youngest daughter Bonnie came out to join me last Wednesday and have been continuously shopping, so by my calculations I need to win the WPT Championship to break even (only kidding) I think.
I will let you have some updates for the Main Event in a few days. Here's hoping for some good results from the Brits and Yours Truly!
Ed note: Become a successful Brit when you download Ladbrokes Poker, home of the Poker Million V qualifiers