The Drinks are on Paddy Power Poker

Tony Bromham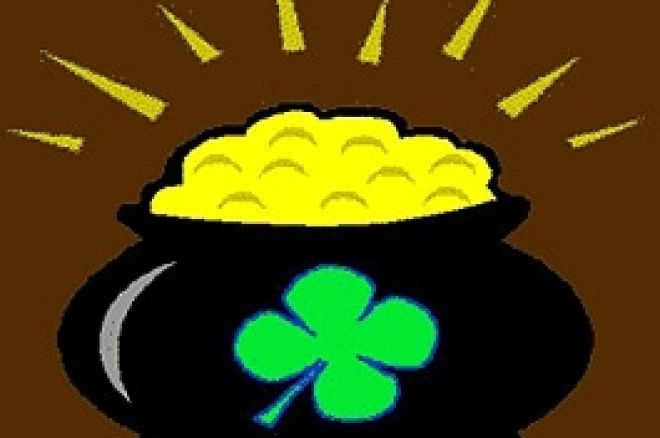 The Gutshot Poker Club can be found in the deepest recesses of "Olde London Town" and UK Poker News therefore sought it out when your writer and his fellow scribe, Paul Sandells, were invited to play in a tournament there by Paddy Power Poker. The winner was in line for a seat at the forthcoming Paddy Power Irish Open, €3,000 paid-up with expenses. The runner-up would get an entry into the €400 rebuy tournament occurring ahead of the Main Event.
This was no ordinary night at the Gutshot - if indeed there are any ordinary nights there - because entry was free to all invited poker media people including a freeroll into the food and drinks bill. Excellent!
Guinness flowed on tap and even Barny Boatman arrived, with media hat firmly planted on his head, to have a game. This tournament was clearly not going to be a walk in the park.
For those who do not know the Gutshot, it is, viewed from the outside, a coffee bar and internet café on the Clerkenwell Road, EC1, and a pleasant one too. Not especially big but definitely a nice place to drop by, grab a drink and sit down, or surf the net. Downstairs in the basement, and in the odd corner upstairs too, is space and a number of poker tables where all the action takes place every evening for the Gutshot's vast number of members.
On this night however, a heady mix of UK poker media and Paddy Power's finest would render very long odds the chances of any Guinness barrels being full at the end of it.
Play commenced somewhere around 7.30pm with 58 runners aboard. This was not going to be a marathon since the first three rounds were on a 20 minute clock during which a "second chance" rack of chips could be taken. Thereafter, the clock was to be reduced to 15 minutes per blind level!
Your writer was on a ground floor table with The Sun writer, Simon Young, and Elkan Allan, esteemed writer with a long history, including producing the cult 60's show "Ready Steady Go!" and writing on the wacky "Batman" series from the same decade. To the left sat Nic Szeremeta's daughter, Kate, who also works at Poker Europa magazine with her Dad.
One early bust out later (at the hands of Ekan Allan), your writer was reloading with his second chance chips and those had tripled by the time the upstairs tables had been collapsed and the last 40 carried on in the poker club proper, downstairs.
Here both of the UK Poker News "hacks" were on the same table. With blinds taking no prisoners, most of the action was in pre-flop mode and an all-in shout occurred in almost every round of cards played. Paul finally bowed out in 12th place, and a final table of 9 players, including your writer, emerged to do battle, Barny Boatman brought over a large but by no means unassailable pile of chips with him from the other table.
From here on in, with most stacks struggling to keep up with the increasing blinds, any half-decent hand was accompanied by a committed push of the chips across the line - All-In!!
On one occasion, one of the PokerZone representatives had no hesitation in calling Barny Boatman's all-in raise and promptly turned over the pocket rockets which left Barny's pair of tens looking sick. A flop of 10-high changed the mood of the table, which then reached fever-pitch as another ace decked on the turn card! Barny was down but by no means crippled, but a quick move would be needed by him. Meanwhile, the PokerZone man took out another player on the very next hand and suddenly found himself chipped up.
Barny recovered with a regular series of all-ins and yours truly, having survived one or two close calls, found things conspiring against him. A strong favourite with J 10 suited against J 2 became a split pot on the river, and an A 10 was all-in three-way against inferior cards but also split on the river albeit this was a saver against Barny who looked likely to scoop the pot until the river. Finally, your writer met his doom in 6th place, but not without dramatic tension courtesy of the dealer's slow revelation of the flop cards one-by-one. With 4 4 looking poor against 9 9, the flop came down firstly with a glorious 4! Followed by a 7 and a.....9!
The blinds ensured that the tournament wrapped up soon afterwards with Barny "bubbling" in 3rd place and two PokerZone stalwarts, Sam Orams and the aforementioned aces man, taking home the tickets to Dublin. Good luck to them over there.
The event at the Gutshot was televised for a pilot show on a soon-to-be-launched new poker channel that subscribers to Sky Digital will be able to see. Our friends at "A World of Poker" were behind the filming with Malcolm "The Rock" Harwood keeping everyone entertained at the microphone during the final table, not least due to his banter with Barny Boatman!
This was a great night for all who attended and thanks must go to Paddy Power Poker for their generosity and the Gutshot for a great venue.
Ed note: You can have great poker every night when you Download London Poker Club and play the $3,000 Freeroll exclusive to UK Poker News