John Gale Interview - Part 3

Tony Bromham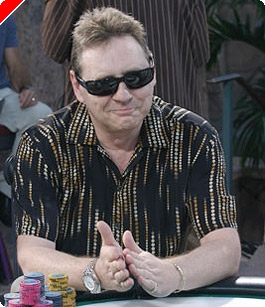 In this final part of an engrossing interview with leading UK poker professional, John Gale, UK Poker News asks John about the UK poker scene, its flaws and things that could be done to improve them. John also has a few words of advice to players who want to step out into the tournament world or would like to follow in his footsteps and qualify for the big events.
Don't forget to look back at the two previous parts of this discussion where John went into great detail about his WPT win in the Caribbean and his WSOP experiences, including some hard-hitting views about players' manners at the table and the F-Bomb rule!
UKPN: What do you think of the live poker scene in the UK currently, and do you play many tournaments here?
JG: I love playing in the UK. The Vic was where it all started for me and I really enjoy going back to play as many tournaments as I can there. Unfortunately, we are still a long way behind the US in structuring. This is not the casinos' fault as they are just not equipped to deal with the numbers of players that the Americans can
UKPN: There is a lot of debate currently about the structure of the bigger UK casino tournaments and the reluctance of casinos and sponsors to add money. The prize structures tend to be top-heavy which often means that many un-televised Main Events fizzle out into "damp squibs" because the last three or four players have agreed a deal to share the prize money. One view is that it devalues the event because a true winner has not been found. The practicalities are that the players are happy to cut a deal because the money is meaningful to them, more than the title of winner and a pot for the mantelpiece. What do you think is the way forward here?
JG: Yes I agree, the payouts here and in the States and Europe are too top-heavy and geared to the final three. I think a more practically shared and evenly distributed prize pool would be advantageous to all concerned and would certainly mostly cut out the necessity for deals. I too would like to see more added prize money from sponsors and an even greater TV exposure even for the smaller tourneys.
UKPN: Apart from live tournaments, do you play cash tables regularly?
JG: Very rarely nowadays. I am away an awful lot so when I'm at home, I love to spend time with my wife Shirley, the children, dogs and horses. Also, whilst I am away, I find cash games on the whole will detract from my performance at the tournaments.
UKPN: Do you still play on-line? If so, which are your preferred on-line poker rooms and what games might we find you at?
JG: Yes, I still play on-line but nowhere near as much as I used to. Ladbrokes is my favourite venue and I play the $30-$60, $25-$50 or $15-$30 pot limit omaha when I do play.
UKPN: What is your advice to an on-line player who wishes to try their hand at live tournaments or cash games in the UK?
JG: Never play for more than you can afford to lose, don't chase and accept that sometimes it's just not your day. Remember cash is different, people may notice your tells as well as you noticing theirs, be careful but most of all enjoy it.
UKPN: Many of our readers probably spend a lot of time attempting to qualify on-line for a major tournament like the WPT, EPT or WSOP. As someone who has been there and done it, what is your advice to someone who finally wins that "golden ticket" and is sitting on the flight out anticipating the adventure to come?
JG: Just go and enjoy it, try not to be intimidated by the big name players you may face, they're human just like you, play your own game and be patient and not too impetuous. Most of all, play sportingly and be equally gentlemanly win or lose.
UKPN: Finally, John, after such an exciting year as 2005, and a good start to 2006, what are your goals in poker for the longer term?
JG: I finished 19th in the Card Player Rankings last year and would dearly love a top ten finish in 2006, but this is much harder for Europeans as most of the American-based players will generally play about 5 or 6 times as many ranking tournaments as we can.
I would dearly love a WSOP bracelet this year and to win another WPT event but I'll be happy just to continue making it pay and feeling lucky enough to do something I really love and couldn't live without.
UKPN: John, thanks again for talking to UK Poker News and we wish you the best of poker success.
JG: Thank you very much, it's been my pleasure to talk to you. I just hope I haven't waffled on too long, and the best of luck to UK Poker News!
Ed note: You can play John at Ladbrokes Poker the home of the Poker Million