John Gale Interview - Part 1

Tony Bromham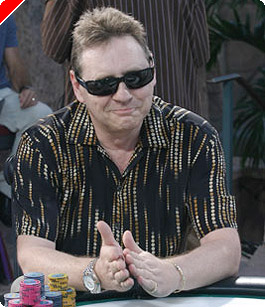 UK Poker News is always seeking to bring you the best interviews with the UK and Ireland's most successful and talented poker players and John Gale certainly falls into both of these categories.
John emerged out of nowhere into the poker limelight in January 2005 when he won a World Poker Tour Championship Main Event at the first attempt and has since maintained a strong standard of tournament poker wherever he has competed, including coming agonizingly close to a World Series of Poker Bracelet.
In Part 1 of this fascinating interview, John discusses at length his WPT experience from deciding to play an internet qualifier through to savouring the victory in all its glory.
In Part 2, to be published later, John gives his forthright views on some contentious poker issues such as the F-Bomb rule and the behaviour of fellow players. John pulls no punches and it is not to be missed!
In Part 3, John chats about the UK scene and imparts some advice to the less experienced of us. Be sure to check back to UK Poker News for all of these!
UKPN: Hello John, thank you for taking the time to chat with UK Poker News.
JG: It's my pleasure, and thank you for inviting me.
UKPN: John, can you tell us a little about yourself and your background?
JG: I was a management consultant for 22 years specialising in co-ordinating IPO's. I sold my company last March and am now enjoying life as a full time pro poker player. I am married with 4 children, two of each, aged between 20 and 25. I have two dogs, Gizmo and Nero, and three horses, one of which (Clyde) is unfortunate enough to be my personal hack and has to endure me riding him extremely badly!
UKPN: Can you tell us how you got started in poker in the first place before turning professional?
JG: I started during school days when some friends and I used to play three-card brag, graduated up to five-card draw and then seven-card stud before playing a lot of omaha in the Vic, and moved on to no-limit hold'em about 18 months ago.
UKPN: The crucial moment for you came at the WPT Pokerstars Caribbean Adventure in the Bahamas in January 2005, which you went on to win, and which now features on most poker databases as your first cash-out at a tournament - a win of nearly $900,000 - the stuff of dreams! Tell us how you ended up qualifying for the tournament in the first place.
JG: I couldn't find a cash omaha game on-line so I decided to play a $27 re-buy tourney for the Pokerstars Caribbean Adventure on Pokerstars. I had one re-buy and one add-on for a total of $81 and won a place in the main qualifier the following Saturday which fortunately I won.
UKPN: Can you give us a flavour of how it felt leading up to the WPT tournament, who you met and what they said to you, and the sense of anticipation before settling down at the tables?
JG: I didn't really meet anyone one leading up to the tourney, but it felt absolutely terrifying. In fact, when I first walked into the tournament area to play and saw the likes of Greg Raymer, Daniel Negreanu, Erik Seidel and a whole host of other famous faces that I had only previously seen on TV, I thought maybe I should just go back to the pool and forget about this; I wondered what the hell am I doing here?
UKPN: What do you think most contributed to your feat of making the WPT final table?
JG: To be honest the most contributory factor was a lot of luck, but you do need that to make any final table; also, because no one knew me, I guess I kind of sneaked up on them and took them a little by surprise.
UKPN: Which of the established poker professionals did you meet at the felt during the tournament and who impressed you the most?
JG: I met quite a few of them but Allen Cunningham impressed me the most (he still does); an absolutely superb player with no weaknesses, at least not that I can see.
UKPN: What were the key hands that you feel brought you the opportunity to win the WPT final table, and how did it feel at that moment you knew you had won?
JG: The key hand was my A 10 of spades against Michael Westerlund all-in where I made the nut flush and crippled Michael. He went out next hand in 3rd to leave me heads-up with Alex Balandin. The other key hand was my all-in against Alex with K Q against his A 8. I got very lucky and spiked a queen to leave Alex very short-stacked and it was all over next hand when Alex went all-in with 8 7 and I called with my pocket jacks which held up (thank God!). The moment the final ace fell on the table and I realised I had won, the first feeling I had was one of sympathy for Alex who had played so well and still lost. After I hugged him and consoled him a little, I felt total elation and got just a little emotional, the whole thing seemed surreal. I had never felt so proud and privileged in my life, the joy I felt could only be compared with the day my first child was born. I know it's wrong to compare the two events but it's the only comparison that comes close.
UKPN: Since that success in January 2005, your tournament record shows you have not lost the art of winning through to final tables at the big events. Do you feel the WPT experience added a significant improvement to your game?
JG: Undoubtedly the win gave me an enormous confidence boost and though no-one was more surprised than me, I now felt that if it wasn't a one-off fluke and I could actually sit down and hold my own with the best in the world.
Check back soon with UK Poker News for Part 2 and some strong views from John on the rules of etiquette!
Ed note: John Gale qualified for the WPT on Pokerstars the home of big tournaments