The Steel City Cup Festival - Event #1

Greg Hill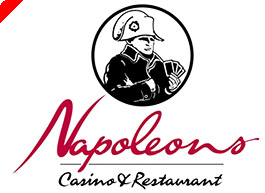 The Steel City Cup Festival took place this week at the Napoleon's Owlerton Casino in Sheffield. The opening event was a £100 NLHE, which saw a full house of 110 runners create a whopping prize pool of £30,700 - (they really do like to gamble up in Yorkshire!) Apart from the unbelievable smoke levels within the card room as smoking is still permitted at the tables, Sheffield is in my opinion one of the best run card rooms in the UK, striking a real balance between informality, common sense and professionalism. The dealers are excellent too and the waitress service at the tables is fantastic - oh, and the car park is huge, right outside the door and free! - What more could you want?
With two other festivals taking place throughout the U.K. in Birmingham and Brighton this week it was thought that the field would be slightly reduced, however all tickets for the event were sold 40 minutes prior to the 8pm start time. The field mainly comprised of local players but with European ranking points on offer it was littered with a few travelling 'names'. Form man and William Hill sponsored player; Julian Thew was in attendance as was Ali Mallu, George Geary, and as they say in Yorkshire "him from Leeds what won a bangle in America" - Lawrence Gosney was there too but his WSOP bracelet was at home - he keeps it under his pillow you know!
The structure was very good to say it was a re-buy competition and those that were expecting and hoping for a chip throwing gamblers contest would have been slightly disappointed as the structure did allow for a fair amount of play and represented good value for your £100. You got 1500 in starting chips with the blinds at 25-50 for a full 90 minutes. The blinds then increased every 30 minutes thereafter. Soon after the freeze-out players began busting out at a very quick rate, filling up the waiting cash tables and single table satellites that were being run for the events later in the week. The atmosphere was great and there was a real buzz around the card room all evening.
It wasn't to be the night for those that had gathered big chips early on in the competition. WSOP bracelet winner and one of the early chip leaders - Lawrence Gosney narrowly missed the final as did 'big' Dave Smith (dressed as always in suit and tie with newspaper in hand). If this had been a £10 'bounty' competition then Dave would have made a profit after about three hours as he must have knocked out what seemed like half of the field single handed, including two players at once on more than one occasion but sadly he too missed out on what looked like a near guaranteed final table appearance.
Overall, the competition was a real battle of endurance and after 7 solid hours of play (these northerners don't need breaks you know - very strong bladders!) a final table of 10 was reached with everyone in that elusive top 10 being guaranteed a four figure pay day.
There wasn't too much play in the final as closing time drew nearer. Eventually a deal based on chip count was struck between the last 5 players with Scott Fenton narrowly edging first place just ahead of Kevin Porrit. Scott won the opening event of Sheffield's Winter Festival back in November 2005 (a £100 PLHE), so this venue and opening day events obviously suit him well.
The final result was as follows:
1st - Scott Fenton (£5850)
2nd - Kevin Porrit (£5830)
3rd - Mick Lewis (£5040)
4th - Matt Tyler (£4070)
5th - Adrian Swingler (£3410)
6th - Ashraf Wahid (£1800)
7th - Stephen Bell (£1500)
8th - Andreas Olympios (£1200)
9th - Masood Hussein (£1000)
10th - Lagi Kafetzis (£1000)
So, it's a big well done to all the finalists and congratulations to Napoleon's at Sheffield on another great competition, which was well run and enjoyed by all. All that's left to do now is jump forward in time to the summer of 2007 when smoking is banned in all public places in England and we can all enjoy our poker in South Yorkshire a little more.
Ed note: Breathe easy and play poker every day of the year at Bet 365 Poker