Poker Challenge On The TV Horizon

Tony Bromham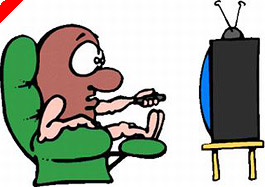 For viewers of Sky and Telewest digital TV platforms in the UK, the choice of poker offerings is sometimes bewildering, and the quality occasionally indifferent. Some of the best bought-in programming can be found late at night on Challenge TV, a network owned by UK company, Flextech. Challenge's recent programming has focused on a specific slot from 10pm each night during which the theme is poker, casino and gaming broadcast under the umbrella name, "Player". Viewers have been treated to multiple re-runs of WSOP and WPT finals and a host of celebrity-style offerings, as well as casino games.
Flextech appear to be happy with the results as they are now about to launch a separate TV channel called simply "Player", which will offer "action, adventure, fighting, gambling, poker, football and drive-time".
The channel is expected to launch in March with a mix of testosterone-biased programming including an exclusive live football match between Juventus and Sampdoria in the Italian Serie A. It will also show "savvy" movies such as Quentin Tarantino's "Reservoir Dogs" and Martin Scorsese's "Casino", and the US-made fiction poker series, "Tilt". Alongside all of that will be a stream of gaming, motor racing and poker, including highlights from the European Poker Tour.
Director of Programming, Jonathan Webb, says: "Player will be gritty and intense. It will be about taking risks and winning and losing big. Our shows will explore in depth the worlds of poker, football, fighting and driving and will capture the moments and the stories of the people we most admire as true players."
Meanwhile, Channel Editor for Player, Dave Clarke, maintains that: "Player is going to be home to very high octane programming."
In addition to the volume of bought-in programming, the new channel is also planning to explore advertising-funded programming of its own within the poker and sports-betting markets in particular.
For those impatient for the 24/7 offering, Challenge continues to offer its "Player" theme from 10pm every evening. Poker is represented at midnight tonight and for the next few nights with the "Poker Royale: Comedians vs. Pros" series. This is a US-made programme and, as UK viewers, you might conclude that the best laughs come from the comedians' playing styles rather than their spoken views. The programme is best watched without taking the playing strategies too seriously!
Ed note: Enjoy a relaxed game at Titan Poker and win Free WSOP seats!