Grand Slam Flowers for Scotland

Tony Bromham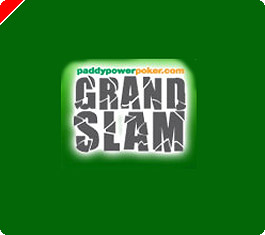 As previewed on UK Poker News last month, the Star City Casino in Birmingham played host to a new format at the Paddy Power Grand Slam in which seven nations (England, Scotland, Wales, Northern Ireland, Republic of Ireland, Sweden and France) competed in a No Limit Hold'em Freezeout Tournament to decide which country had the best overall group of players.
The prizes would be paid in two parts - one to the individuals finishing 1st, 2nd and 3rd (€50,000, €30,000 and €20,000 respectively) and the other to the overall top nation (€110,000). So, there was good reason for some intense battles to begin!
The quality of the field of 42 players (six from each nation) was high:
England:
Micky Wernick (European Rankings Winner 2005)
Gary Jones
Steven Reeves
John Shipley
Robin Keston
Julian Gardiner
Scotland:
Philip Starrs
Daniel Dodds
Scott McQueston
Rory Matthews
Christopher Welsh
Graeme Harrison
Wales:
Viv Williams
Mark Williams
Iwan Jones
Jeff Burke
Martin Kavanagh
Dave "El Blondie" Colclough
Northern Ireland:
Henry McGrath
Ivan Donaghy
Paul Leckey
Conor Tate
Darren Baine
Matthew Bell
Republic of Ireland:
Len Collin
David O'Callaghan
Andy Black
Domhnall Mac A Bhaird
Donnacha O'Dea
Padraig Parkinson
Sweden:
Tobias Persson
Ingemar Backman
Per Hilderbrand
Martin de Knijff
Lars Kjestrup
Chris Bjorn
France:
Thomas Fougeron
Paul Testud
Pascal Perrault
Michel Leibgorin
Robert Cohen
Jean-Bernard Bot
An initial glance at this list would identify at least one or more top poker names from each team, with the exception of Scotland. This team is essentially a group of home-circuit players whose young Rory Matthews has the most consistent record of sizeable live tournament cashes (including a £15,000 haul from three events shortly before Christmas), and Graeme Harrison who has a $33,000 receipt from the WSOP 2005 Main Event, finishing just outside the top 200 from a field of over 5,600.
The tournament began with six tables of seven, with one player from each nation per table and a starting stack of 100,000 and blinds of 1,000/2,000. The action soon developed as the blinds moved up, all of which was committed to tape for televised broadcast on Sky Sports in March.
The Irish teams were sporting some big names but Northern Ireland soon lost a gaggle of players. The Republic of Ireland, in contrast, hung in for a while and stayed with a chance of the national title. The English were also sporting a strong line-up but they had been fully expunged from proceedings well before the final table. As play narrowed down to the climax, players became more aware of team rankings and the burden of representing their respective nations slowed up play. France, Scotland and Republic of Ireland were the final three teams in with a chance.
Scotland's Rory Matthews powered into a chip lead on the final table but Sweden's Lars Kjestrup, free of the burden of representing the Swedish team, constructed a large stack for himself, eventually going on to take the first prize of €50,000 at the expense of Welshman, Iwan Jones (winner of the London Open in August 2005). Matthews took the final cash prize in third while fellow Scots, Starrs and McQueston finalled in 4th and 7th to secure the team title and €110,000.
Captain of the Scottish team, Philip Starrs, said afterwards "It's the first time ever this type of event has been played and it was an amazing ride. We had a hard time getting here - we paid ourselves in and had next to no sponsorship - so it's fantastic that we have become the Grand Slam champions and are happy to take on all comers at the next event. We don't win much as a country so this is very special and we don't intend to give it up easily"
Ed note: Be a Braveheart at Bet365 Poker and earn a $50 bonus.