Poker Whispers

The Poker Whisperer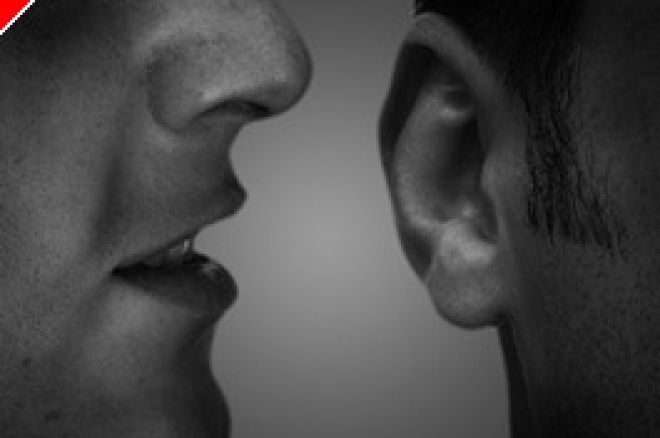 The Poker Whisperer is a well known UK poker player. He will be writing anonymously for UK Poker News to protect his identity and the identity of his sources. The Poker Whisperer always has an ear to the ground, so be careful what you say and where you say it.
Happy New Year.
I'm in a very upbeat mood this month. I suffered the family Christmas and all the expenses that brings. I busted out of every tournament I played in the first half hour. I lost a chunk of my bank roll to some on-line fish. Mrs Whisperer is angling for a tropical holiday (Iraq ok for you darling?) but I'm still on top of the world. Why? Because today is January 12th. 'What's so special about January 12th Whisperer?' I hear you ask. Today is the day Poker Zone finally stop showing that dross, "Heads-Up with Richard Mackerel"
'Wacky' Richard, is a cult in student circles I hear. At least, I think they said cult! His TV interview show is more painful than a root canal. Is there actually an audience watching this brain numbing rubbish? I have heard the occasional applause, but it's so weak, it could easily be the camera operators and floorman. If this show ever gets a second season then I think I might cry.
Meanwhile, staying on the television theme, the lovely Victoria Coren has gone all mainstream. 'Balderdash and Piffle' has been airing on BBC.2 recently. The show "explores the fabulous stories behind the words and phrases we use everyday." according to the Beebs blurb. Fair enough. Vicky is doing a great job as the presenter and is clearly more cut out for TV and journalism than professional poker. Although, the pining for her low cut tops from the coffin dodgers at The Vic' can be heard for miles around.
I wonder what delights the TV stations will serve up for the rest of the year. Is it any wonder we're a nation of binge drinking, gamblers?
In other news. The Hendon Mob have achieved their goal of losing Prima Poker as their sponsor. Or so it would seem from their website statement. Great way of putting a positive spin on it boys! To be fair, I am a big fan of THM. They've brought a lot of good things into the game in the UK. All four are very likable guys and they should be applauded for their efforts on the poker front. The Whisperer is sure a new sponsor will snap them up very quickly. Are they worth $1,000,000 per year, though? Did Ed Giddins have a whiter than white cricket career? You work it out.
My editor tells me some players have recently been questioning him about my identity. Strangely, the guesses have been wide of the mark. I am not Tikay or Keith 'the Camel' Hawkins. Nor am I the 'Poker Bastard'. Mrs Whisperer may beg to differ on the last one, though.
Have a great month. Remember, I'm listening.
Ed note: Even The Poker Whisperer is lost for words about the Eurobet Poker $600 deposit bonus.