Women Poker Player Numbers Grow Dramatically

Paul Sandells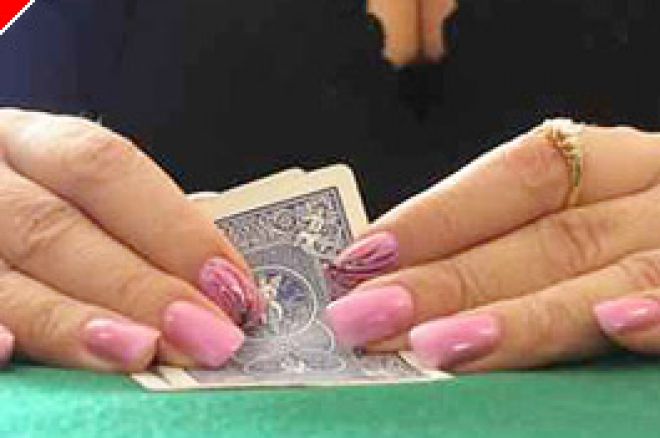 Many people associate poker with macho guys, huddled around a smokey table, throwing more testosterone around than poker chips. However, more and more women are playing the game these days, they're not doing too badly either.
JoJo Hastie, a charity event organiser, started playing poker a few months ago. Taught by her boyfriend, she quickly got a good grasp for the game and recently entered her first tournament. "It was really good fun. I came third out of 20 people and won £250," she said.
Ms Hastie continued : "A lot of my female friends now play and they come round for dinner, we have a few glasses of wine and then the cards come out. Poker is seen as a guy thing but now there are a lot of middle-class ladies who play and for a lot of them it is not about the money — they can afford to lose and the prizes do not make any difference — it is about the social aspect."
Mary Caldecott-Smith, 34, played in the same tournament as JoJo. "There are no men here and it is so relaxing." said Mary, shortly after the completion of the Chelsea based event.
Shiobhain Brennan, 35, also in attendance said : "Playing with men can be very daunting. There's lots of testosterone and male egos. Here there's no bravado, no having to big it up, no trying to psyche you out."
What about online poker, how are women finding the game across the virtual green baize?
Natasha Ellis was earning £14,000 per year in her last job as a travel writer. Now working as an online poker player she has trippled her salary and works just four or five hours a day.
"I can make up to £1,400 a week now and it is all tax-free. I play a lot online but also in live tournaments. I think when women play they don't let their ego get in the way of their strategy, unlike men, who may go all in because someone has annoyed them." said Natasha from Scotland.
European marketing manager at PokerStars.com, Conrad Brunner, estimates 900,000 players at his site are women. From a database of 3.5 Million players, it's clear men still out number women, but the ladies have a few extra tricks up their sleeves. "To try to give a more aggressive masculine impression they will invent their own identity, so when a player gets totally outplayed by 'Dark Destroyer', who uses an Arnold Schwarzenegger photo as a screen image, they may in fact be losing to Mrs Smith-Warner, mother of three, from Tunbridge Wells. You just never know." said Brunner.
Ed note: Ladies are made very welcome at Everest Poker where a $50 bonus is on offer.