UK Festival Report: Luton Xmas Cracker

Adam 'snoopy' Goulding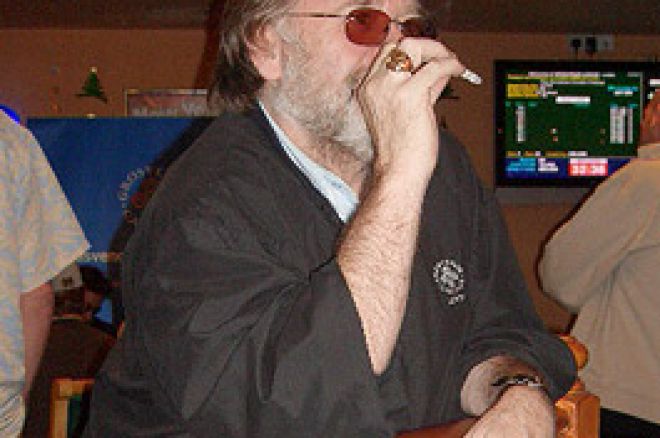 With the end of the ranking year fast approaching, Luton had become a target location for many top players. In fact, with only Helsinki and Brighton remaining on the calendar, the week's events would undoubtedly prove pivotal in separating the men from the boys, perhaps even offering the chasing pack their final realistic shot at the title.
Top of the list heading into the festival was the highly respected Mickey 'The Worm' Wernick. At one point, the poker veteran even confessed to an unhealthy obsession with points, suggesting that taking the title had surpassed any desires to pocket the 27k first prize. This logic was understandable, however, as winning the William Hill European Ranking's title would not only bring Mickey the duly deserved respect from his peers, but also a 10k first prize and the inevitable flurry of sponsorship offers.
Hot on his heels were the likes of Frenchman, Pascal Perrault, and John 'Grumpy' Falconer, ranked 2nd and 3rd respectively. A strong finish to the season from either player could easily snatch victory from the jaws of defeat and leave Mickey cursing the bad beats and outdraws more than ever.
Going into the main event, the situation remained virtually the same. After his only placing being a 4th position finish in the £200 Pot Limit event, Mickey knew that surpassing the achievements of the chasing pack in the £750 Main Event was now of the utmost importance. However, if Mickey thought that these were the only players he would have to concern himself with, he was in for a nasty surprise.
With the restaurant open for the Christmas season, Luton were limited to ninety seats, which were filled by perhaps the best pound for pound field the ranking year had witnessed. A quick glance around the casino found a whole array of talent lurking. With the likes of Bambos Xanthos, Keith 'The Camel' Hawkins, Simon 'Aces' Trumper, 'Smokin' Steve Vladar, and Xuyen 'Bad Girl' Pham all present, this was going to be one hell of a field to plough through. In fact, there were many players with nicknames, and that's always a dangerous sign.
Small blinds, chunky starting stacks, and a generous clock meant that there was plenty of poker to be played. Renowned for its excellent structure, the Grosvenor in Luton rarely lets us down at festivals, and this event lived up to all the expectation. Having said that, however, every comp has its early exits, whatever the structure, and this event was to be no exception. Both Julian Thew and Willie Tann took very early baths, soon followed by the likes of John Hewston and Simon Nowab. Incidentally, Nowab's starting table had consisted of Vic Kanwar and Paul Garnham, who were the top 3 finishers at Luton's UK Open Main Event. This time, however, a different script was being written.
In contrast, several players had burst out of the blocks. Dave Barnes in particular had built up a very tasty stack, whilst Steve Bovis, Ariel Adda, and young gun Stuart Fox were also making early challenges for the chip lead. In terms of rankings, Mickey Wernick and Pascal Perrault were both going steady at around 20k, whilst John Falconer made his exit just before the second break.
When the dust had settled and the smoke had cleared, Day 1 had left us with a motley crew of 15, all delighted to be returning for the second day. Among them remained the consistent figure of Mickey Wernick, still looking anxiously over his shoulder at the ever-present Frenchman. Accompanying the two ranking contenders were chatterbox Paul Parker, the dangerous threat of Denis O'Mahoney, and 'Michigan' Jeff Buffenbarger, to name just a few.
Day 2 soon arrived, and, following a short delay as a result of the explosion in Hemel Hempstead, we were back in business just after 3pm. However, with chips stacks still unaffected by the blinds, it was potentially going to be a long time before the winner was crowned.
After a lengthy period of cagey play, the first man eventually fell in Matt Arnott. Unfortunately for Mickey, it was at the hands of Pascal whose pocket nines improved to quads thereby crushing Arnott's bullets. Chipped up and surpassing Mickey in chips, Pascal was now in a strong position to gain some vital ranking points and mount a serious challenge for the title.
After Garnham, Parker, Geourgiou, and Bovis had made their swan songs, we were at the dreaded bubble, a position that Mickey was desperate to avoid. With the camera crew braced and the final table being prepared, it was a slot that no one was too keen to fill. But as we all know, someone is destined to be dealt the blow and, after a period of overly cautious play, it was David Robinson who ultimately took the unwanted honour.
So, here we were, final table time. Both Mickey and Pascal were set to cross swords, although the former was in for an uphill struggle as Pascal was now a huge chip leader with 237k. But those who know Mickey will verify his determination and will to survive, and would undoubtedly agree that he is a specialist when it comes to playing a short stack.
At 6.15pm, the final commenced. Early exits saw Adda take 9th, and Buffenbarger being forced to settle for 8th. Meanwhile, Mickey was remaining patient, desperate to either find an opening or witness the downfall of Pascal. Then suddenly, a ray of hope to the faltering Mickey as he picked up pocket queens. The victim was Bernard Litman, who briskly moved all-in from the button with rags. Litman was sent packing in 6th and the Birmingham man received a timely double up.
Seated next to the restaurant, the final table wasn't to be a peaceful experience. At times concentration was hampered and, in one bizarre incident, a balloon even flew over the barrier and fizzed into the face of Pascal. A humorous moment for onlookers, but, considering what was at stake, slightly less amusing to the players. But this was a mere blip on what had been an impressive competition, played in a jovial and friendly spirit throughout.
With seven players remaining, Mickey's prayers were answered when youngster Stuart Fox bust Pascal's pocket rockets with a straight on the turn. Seriously dented, Pascal's chip lead was snatched away from him, and the hope of a ranking title was fast diminishing.
Then, after Denis O'Mahoney took 2.7k for 6th, Pascal was next to follow, ultimately taking 5th prize. An overwhelmed Mickey was clearly delighted when he witnessed the demise of his main threat. As the only top 10 ranked player remaining, Mickey realised that this would perhaps, barring a disaster in Helsinki and Brighton, seal his victory as Europe's top ranked player. However, there were still points up for grabs, and Mickey set about focusing on his new objective - winning the event.
Play continued for some time until Stephen Lennon's K-8 was held off by Mickey's pocket deuces. Three left, and there was talk of splitting the dough. After several minutes of uncertainty, the three finally agreed on a deal. Being the gentleman that he is, Mickey offered a very generous pay-off to lowest stack Stuart Fox, whilst ensuring that current chip leader, Gavin Butler, took home his rightful amount. Anyhow, the comp must be played to a finish, and, following a brief segment of serious play, the chips were eventually thrown into the middle with Mickey's pocket sevens seeing off both opponents, who shared the same hand in Q-9 off-suit.
This therefore made Mickey 'The Worm' Wernick the Luton Christmas Cracker Champion. He punched the air, whipped out his mobile, and reported back to base with the good news.
As reported earlier on UK Poker News, Mickey did indeed tie up the title and claim the prestigious honour of European Ranking's Winner. With Pascal and co breathing down his neck, the Christmas Cracker was a key event, but 'The Worm' held his nerve to fend off all competitors. Mickey's performance in Luton was first class, and I consider his recent success to be richly deserved. Plus, he's a diamond geezer to boot.
As is becoming consistent with the Grosvenor brand, this was a top-notch main event, made all the more pleasurable by the friendly and hospitable staff at Luton. Their festivals are simply getting better and better, and, if they continue to improve, I may be forced to put my money where my mouth is and show the veterans like Mickey Wernick how the game should be played. Well, maybe...
Ed note: Have a cracker of a new year by joining Euro Poker for a $100 bonus