NorFlush Cruises to Victory with Ladbrokes

Tony Bromham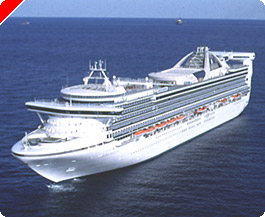 The Ladbrokes Poker $5,500 No Limit Hold'em Main Event on board the good ship "Zenith" has been won by Norwegian, Eirik Bjourkland, who disembarked with his wallet fattened by the first prize of $375,000. Bjourkland plays Ladbrokes Poker under the nickname "NorFlush". Second place went to "Eskobet" or Adam Eskola, who picked up $235,000.
This event consisted chiefly of Ladbrokes Poker on-line players who qualified through satellite tournaments, but direct buy-ins into the tournament were also available. In addition, a number of smaller side games and tournaments took place on board, concurrent to the Main attraction.
Amongst the seasoned players making an appearance in the Main Event were the Devilfish himself, David Ulliott, Irish cash game king and former Ladbrokes Poker Million winner, Donnacha O'Dea, and "Mad Marty" Wilson, the teller of many a story to keep the throngs amused. Big money winner, John Gale was also in attendance, and Jesse May and the TV crews came along for the ride. But none of these made the money in the Main Event although Devilfish didn't leave empty-handed, taking 5th place in the $1,000 no limit hold'em tournament and over $15,000.
Those that did cash in the Main Event included:
John "Skalie" Kalmar of Chorley, England; he banked a useful $170,000 in 3rd place - having for most of the tournament been the dominant chip leader - to add to his consistent run of results throughout 2005. These included a top 100 finish at the WSOP $10,000 No Limit Hold'em Championship in Las Vegas and 25th at the Monte Carlo Millions.
Sweden's Bengt Sonnert; he took 8th position and collected $40,000, this just a month after another 8th place secured him $128,000 at the prestigious WPT Fourth Annual Five Diamond World Poker Classic in Las Vegas, and two months after winning $250,000 for 4th place at the Monte Carlo Millions, behind Phil Ivey, Paul "Action Jack" Jackson and Marc Goodwin.
England's Stuart Fox; he took 10th on the Ladbrokes Cruise winning $18,000 and has a consistent record of tournament cashes including three payouts at the WSOP 2005.
The aforementioned Paul Jackson, who won $600,000 for his runners-up spot at the Monte Carlo Millions, also made an appearance on the Ladbrokes cruise. His 59th placed finish won't trouble the record books but, remarkably, it was enough to win back his entry fee of $5,500. The payout structure on this event was relatively flat, ensuring that 65 players stood to cash out.
In the context of the cruise being a chance for relaxation and enjoyment for a large number of on-line qualifiers, a flat payout structure offering potential profits for many of those who did not have to pay the full entry buy-in was an added bonus. Apart from poker on tap, the passengers were also able to take in the sights, sounds and beaches of the British Virgin Islands, Antigua, St Maarten and the Labadee private island, after setting sail from Miami, Florida.
Win or lose at poker, the players will have returned home richer for the experience.
Ed note: You can win a cruise and much more at Ladbrokes Poker where the games are huge and a $100 bonus awaits.