Hendon Mobster Squeezed Out in Dublin

Tony Bromham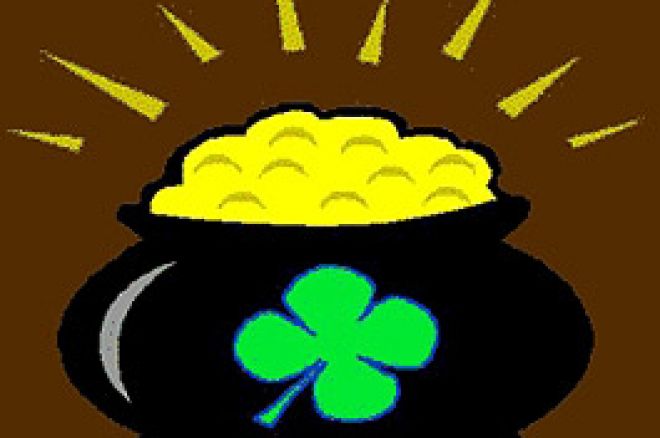 One of Ireland's biggest poker tournaments yet, the Boyle Poker Irish Poker Championship, has just ended with home interest securing the first three places at the Main Event, €1,000 No Limit Hold'em Tournament, held at City West Hotel, Dublin.
This event attracted the best of Irish poker players and a heavy contingent from across the Irish Sea, one of the most well-known of whom pinned down 4th spot for a prize of €18,000, Hendon Mob member, Barny Boatman. Other British-based players in the top 18 were Mukesh Mojaria (6th), David J Lloyd (14th), Ronnie Debaulox (17th) and Tony Chessa (18th).
Home-grown Irish poker talent snaffled the rest of the cash placings, the top ten of which were:
1st Kieran Walsh (Ire) €150,000
2nd Damian Kavanagh (Ire) €70,000
3rd Dave Masters (Ire) €30,000
4th Barny Boatman (Eng) €18,000
5th Keith McInerney (Ire) €15,000
6th Mukesh Mujaria (Eng) €12,000
7th Pat O'Callaghan (Ire) €11,000
8th Bill O'Keefe (Ire) €10,000
9th Mike Boland (Ire) €9,000
10th David McCarthy (Ire) €6,000
This was an impressive finish for all players concerned as no less than 391 players competed over three days for the right to this title and the first prize of €150,000. Kieran Walsh, a student from Cork, was the happy recipient at the end of the proceedings. Clearly, his studies have paid off spectacularly! He was followed into second place by Damian Kavanagh, a Dublin local who originally set off on the path to the money by winning a €50 satellite at the Red Cow Hotel.
During the three days of this no limit hold'em mini-festival, a further two supporting tournaments took the stage, each one day affairs, a €500 No Limit Hold'em and a €250 No Limit Hold'em. With each attracting 199 and 267 entries respectively, the competition was fierce and the prizes attractive. In the €250, the cash was all but monopolised by Irish hands, with one conspicuous exception, English snooker superstar, Steve "The Nugget" Davis. His third placed finish (behind Ireland's Eddie Kavanagh and Barry Hurson) was testament to his growing reputation in poker, the €13,500 "chopped" prize almost secondary to the achievement. No doubt his old snooker mentor, Barry Hearn, will have been pleased to see it, especially on the same weekend as his beloved League 2 football team, Leyton Orient, humbled the mighty Tottenham Hotspur in the FA Cup.
The €500 was won by Polish player, Victor Nosko, where the first four places were "chopped" with Michael O'Sullivan, Norman Walsh and Rory Liffey, all from Ireland. There were top ten finishes for English-based Matt Tyler (8th) and Jimmy Wan (10th).
This event was a roaring success and it could well be that a few days in Dublin will become a traditional January diary entry in future.
Ed note: Start the new year at Bet365 Poker for a $50 bonus