Bluff magazine to go European

Tony Bromham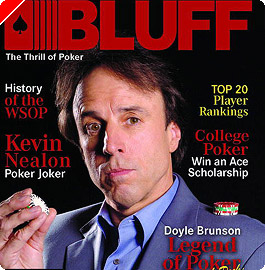 The successful American poker magazine "Bluff" is about to give birth to a European version, called simply "Bluff Europe".
"Bluff" was first launched in the United States of America in late 2004 and hit the headlines when the initial modest production run hit the news stands which in turn were knocked over in the rush by eager poker-crazy customers. The 7,000 copies flew out of the doors and led to an eventual sale of 90,000 magazines. The second issue saw a staggering 170,000 copies head for USA news stands including outlets like Albertsons, Barnes & Noble, Books-A-Million, Borders, Kroger, Wal-Mart and Walton Books. In addition, casinos and card rooms in many USA states took on copies for their gaming customers to enjoy at leisure.
At the time, publisher and co-founder, Eric Morris, said "I've been involved in the launch of several successful magazines over the past nine years, and this kind of instant success is unprecedented."
Morris's co-founder, Eddy Kleid, also commented at the time that "poker is hot right now, and "Bluff" is providing the right mix of content to pique the interest of a new generation of poker player. "Bluff" is not just a compendium of poker strategy articles; it also focuses on the excitement surrounding the dream of becoming a professional poker player."
Kleid continued, "I think part of what makes "Bluff" so enticing is the fact that anyone can become the next star on the World Poker Tour, it doesn't matter how old, tall, strong, or rich you are. Our goal is to get people excited about this poker."
"Bluff" soon found other ways to excite its readership's imaginations. For example, they created the "Bluff Poker Tour" (BPT), an on-line series of tournaments to be held at different poker rooms in the virtual world. Big-money winning professional, Michael "The Grinder" Mizrachi, was enrolled into the BPT to act as a focus and a challenge, and a cash bounty was offered on his head as an added incentive. The series culminated in the BPT Championship Tournament, the winner of which would win three fully paid up seats at World Poker Tour Main Event tournaments. "Bluff" would fulfil its promise to enable one of its readers to live the dream! The BPT series is now into Season 2.
"Bluff" sports a long line up of top contributors including Phil Gordon, Marcel Luske, David "Devilfish" Ulliott, Annie Duke, Antonio Esfandiari, Josh Arieh, Clonie Gowen, Mike Caro and Phil "Unabomber" Laak, to name but a few.
In the Spring of 2006, "Bluff" will sponsor its first big live tournament, the CEO Poker Tournament. This is a Black Tie affair in which all entrants will qualify by virtue of being CEO's of successful companies.
Over the last year, "Bluff" magazine has cut a swathe through the poker publishing world with innovative ideas and marketing prowess. Now Europe is about to feel the force and have the "Bluff" played on its own doorstep.
Ed note: Play your own bluffs at Bet365 Poker and earn a $50 bonus.