Aussie Millions - Main Event Champion is Crowned

Tony Bromham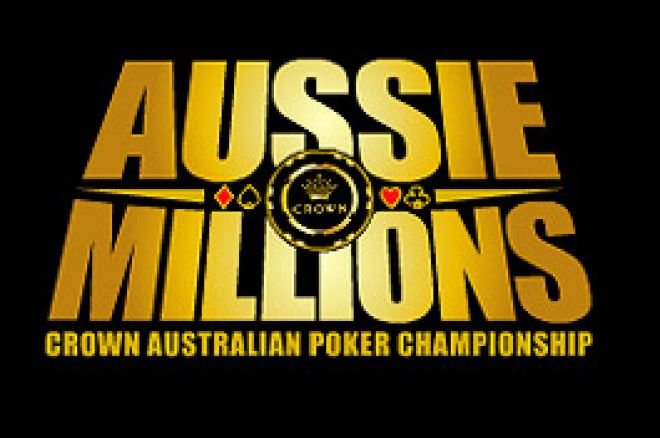 After four long days of competitive poker at the Crown Casino in Melbourne, Australia, the final seven players gathered at the Final Table of the Aussie Millions A$10,000 No Limit Hold'em Main Event. The survivors outlasted a host of more illustrious poker names to get here. Included amongst their number were Shannon Shorr, a 20 years old college student and Robert Neary, a 21 years old college golfer, both from the USA and both harbouring the dream of every poker player of hitting the target in their first major event. They don't come much more major outside of the USA than the Aussie Millions!
The full line up and chip count was:
Seat 1: Jeff Sealey (USA) - 1,982,000
Seat 2: Nenad Medic (Canada) - 1,841,000
Seat 3: Shannon Shorr (USA) - 1,532,000
Seat 4: Russell Davies (AUS) - 777,000
Seat 5: Wes Bugiera (AUS) - 594,000
Seat 6: Robert Neary (USA) - 617,000
Seat 7: Lee Nelson (NZ) - 1,024,000
Intriguingly, all four of the "chip millionaires" were drawn next to each other, with the least experienced, Shannon Shorr, having best position. Lee Nelson of New Zealand was at the wrong end of this arrangement but local opinion seemed to be that he was well-qualified to handle it, with a wealth of experience behind him and already three cashes in this Aussie Millions series alone.
So to the game itself and the first action was not long in coming. Hand 4 saw two of the shorter stacks lock antlers in an effort to catch the big guns. After a cheap flop that showed Q 10 3, fellow Aussies Russell Davies and Wes Bugiera went for it and Davies was all-in. They both showed down Q 10 and the pot was split.
There followed plenty of pre-flop raising and folding with blinds changing hands. At 10,000/20,000 with 3,000 antes, they were not a threat to any stack yet. Finally, some sizeable but tentative bets and calls saw a big pot go to Nenad Medic of Canada who took a large chunk out of Jeff Sealey's tall stack, both players unhappy with the way they played the hand.
USA student Shorr continued to spar well and picked up chips with strong betting on the flop on two or three occasions. But, as they say in boxing circles, one careless move and your lights might go out. Shorr raised 95,000 pre-flop and was called by Lee Nelson. On a flop of 3 3 8 with two hearts showing, Nelson bet out 100,000 which Shorr called. The turn card was Ks.which Nelson checked, Shorr bet 200,000 and Nelson called. The river was the 8d making 2-pair on the board. Nelson moved all-in leaving Shorr a big decision. Lose this and he would be a short stack! Youthful courage prevailed and he called. Amazingly neither player had an 8 or a 3, and Nelson's pocket pair of 6's stood up.
There followed another big pot involving Lee Nelson and he took a big chunk off Jeff Sealey with an all-in bet after the turn with 8c 3h 2h 4d showing on the board. Sealey folded. Nelson was now comfortably the chip leader.
Despite the unthreatening blind sizes, all-in bets were beginning to appear. Nelson was also using his monster pile of chips to good effect, stealing blinds and antes wholesale. At this point, the consensus was that he had over half of the chips on the table. He had added to them by eliminating the very low Wes Bugeira, who finished 7th.
Then some side action! Jeff Sealey, now very low, pushed in with K8 and was called by Russell Davies with AQ. The flop produced an 8 for Sealey, the turn an A for Davies but, just as it looked all over for Sealey, another 8 popped out on the river, leaving Davies on the felt. The Poker Gods can be cruel and often kick a man when he is down. Davies soon pushed the remainder of his chips in with AJ and chip leader Nelson called with 66. The flop showed an A for Davies but one of the remaining two 6's appeared on the turn. Russell Davies - over and out in 6th place.
Jeff Sealey followed soon after, once more steamrollered by the Lee Nelson juggernaut who flopped top pair and pushed all-in to be called by Sealey with middle pair. Jeff Sealey took 5th spot.
Low-chipped USA student Robert Neary, who had avoided a lot of the carnage until now, went all-in with AJ and found a caller in Shannon Shorr with 55. An ace on the turn doubled Neary up. Shorr recovered soon after that with a big all-in bet on the turn after trading bets with Nenab Medic. Medic folded and was beginning to bleed chips. But then Medic picked up a big pot after trading bets with Nelson and winning the showdown. Soon he did it again, this time calling a bigger river bet by Nelson. There was clearly life in the Canadian yet. Could Nelson be losing his grip?
Neary was now very short but doubled up through Shorr with a dominated ace. Then he doubled up again through Nelson after the New Zealander spent an age in the tank wondering whether to call Neary's 600,000 all-in re-raise. Neary's 55 improved to a set against A 10. Suddenly Neary had over a million while Nelson's battleplans were coming apart at the seams.
But like a vessel on the open sea, this table was rocking from side to side and the chips were moving back and forth in motion. Suddenly, a big wave hit and Shannon Shorrs chips went flying - straight into Lee Nelson's grasp. On a cheap flop of 8 6 4 with two diamonds, Nelson made a small bet to Shorr's check. Medic called and Shorr check-raised only to be followed by Lee declaring he was all-in. After Medic folded, Shorr eventually braved a call showing 8 7 for top pair. Nelson held Qd 5d for the flush draw. The Qs on the turn clinched it for Lee Nelson. Shannon Shorr's adventure was over and he took 4th place and a handsome cheque for A$271,700.
Nelson was now level with Medic each with a little less than 40% of the chips. Neary was bringing up the rear but one double up would change all that. However, the big change occurred in a hand in which Medic called down some large bets from Nelson including 700,000 on the river. Nelson took the huge pot down with, it is believed, pocket aces.
Medic suffered a further reverse against Neary followed by several hands folding to any bet on the flop. Medic's balloon was losing air. It finally crashed to ground when his all-in bet was called by the other two and checked down. Nelson took the small pot. Nenad Medic collected 3rd place and A$376,200 for his pains.
Now heads-up, Lee Nelson had a 3:1 advantage in chips. The play was cagey but then Neary got busy and took some useful pots with all-in re-raises. But for all that, it was still a 3:1 ratio as we approached the end.
On a flop of A 6 Q with two clubs, Nelson bet out and was called. The Kc on the turn made a flush possible and Neary bet out 500,000. After a long think, Nelson called and another K hit the river. Neary went all-in and was called. The TV restrictions prevented the cards being shown live but Nelson knew he'd hit the jackpot. Robert Neary finished in 2nd place and takes A$689,700 back home to the States.
New Zealand's Lee Nelson, who many locals had tipped before the Final Table began, is the Aussie Millions Champion 2006, and A$1,295,800 to the good. Congratulations to him.
Ed note: Be a Champion player at Bet365 Poker and collect a $50 new player bonus.