UKPN Feature : Ben Grundy

Tony Bromham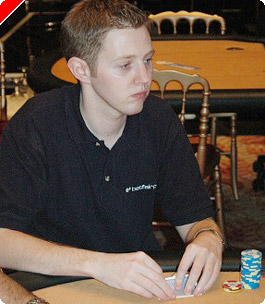 Ben Grundy is a name that might not immediately spring to mind when asked about the leading UK players of today, yet you would probably be overlooking one of the many up-and-coming (if not already arrived) young and aggressive poker talents in Europe today.
Grundy is often known by his internet playing name of "The Milky Bar Kid" so called because of his schoolboy looks rather than any resemblance to the child actor who played the little cowboy in the Milky Bar adverts which ran on TV long before the poker player himself was born. Whatever the case, one look at his current "blog" is likely to make the average on-line player think twice before having a pop at his stash.
Grundy came to prominence with a final table finish at the EPT Main Event in Monte Carlo earlier this year, winning for himself a cool €79,500 into the bargain. Grundy had qualified for that €10,000 buy-in event via an on-line qualifier, eventually finishing 7th behind winner Rob Hollink. That was enough to generate some sponsorship interest from the same on-line betting company through which he qualified, so Grundy now carries a responsibility to promote their interests on his travels too.
It always helps to have someone pay your way on the poker ladder but Grundy has shown that he can manage quite nicely by himself if need be. One look at his detailed web account of his progress this year shows a player who isn't afraid to dive in with both feet. He has just summed up his year which has seen him make substantial profits both on-line and off, yet on some frantic on-line days alone he has dropped more than £10,000. That is certainly a large variation in play and an indicator of the need for a big bankroll when playing high stakes games which Grundy plays at Omaha and Texas Hold'em in equal measure.
Grundy says his aims for 2006 include:
- not going broke!
- enjoy the game more (get less stressed)
- make money in a WSOP and WPT event
- win at least £150,000 on-line
- play at least 5 WSOP events and 2 WPT events
- win 3 tournaments with buy-ins over £750
- reduce tilt to a manageable level
- not play any limit poker.
One can deduce from that list that there are some imperfections that he has recognised and wants to eliminate. All in all, Grundy's stated aims should certainly keep his mind occupied and it's fair to imagine he will end 2006 a better player still.
Ed note: Scale the poker heights with Everest Poker and claim an extra bonus