Cascarino Nets the Winner in St Kitts

Tony Bromham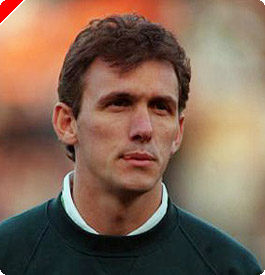 Have you ever wondered what happens to former soccer players after they have dropped out of the game? Years ago, it seemed they all retired to run a public house, deal in property or circulate on the after-dinner speaking circuit.
Former Irish international footballer, Tony Cascarino, is not entirely the exception since he does in fact roam the after-dinner speech circuit, but not many of his fellow ex-footballers have triumphed in a major poker tournament against established professionals! Cascarino has just achieved this notable feat in the $100,000 Pro-Am Invitational at St Kitts in the Caribbean, part of the Caribbean Poker Classic line-up.
The Pro-Am event started with 18 invitees from professional and "celebrity" ranks. This was a "freeroll" so the buy-in was the quality of your name! These included noted poker professionals Antonio Esfandiari, Xuyen "Bad Girl" Pham, Juha Helppi, Bengt Sonnert, Phil "Unabomber" Laak, Simon "Aces" Trumper, Willie Tann, Julian "Yoyo" Thew, Rob Varkonyi, Kathy Liebert and Brian Wilson. Even the celebrities included a WSOP Bracelet winner amongst them - Jeniffer Tilly.
Only one of these could win the money and the bookies would have had long odds on an ex-footballer!
The tournament was held in three flights of six players with the last two in each progressing to a six-handed final. In that respect, Cascarino and his fellow Brits and Europeans could be said to have an advantage. They are familiar with such structures in UK TV tournaments like the Ladbrokes Poker Million, The Victor Cup and the Poker Channel's British Poker Open.
After much combat, the final table revealed itself (in chip order):
Xuyen "Bad Girl" Pham (UK professional) (39,500)
Brian Wilson (WSOP 2005 Bracelet winner) (35,200)
"Smokin" Steve Vladar (UK professional) (34,400)
Tony Cascarino (ex-footballer) (25,600)
Rob Varkonyi (WSOP Main Event winner 2002) (24,800)
Pete Giordano (20,500) (US professional)
During the tournament, Cascarino disposed of Xuyen Pham slow-playing A8 on a 986 flop, calling a big bet on the end after 33 arrived on turn and river. Pham showed 44. Eventually, Cascarino got heads-up with Vladar and busted him out with Big Slick AK!
Stories like this bring hope to us all. The series at St Kitts contained a number of very fair buy-ins that anyone with enough money for the air fares and accommodation could afford to enter. But like Tony Cascarino, it also helps to bring your poker head with you!
Ed note: Give yourself a chance to shine by joining VC Poker and soak up a $100 bonus