Poker Whispers

The Poker Whisperer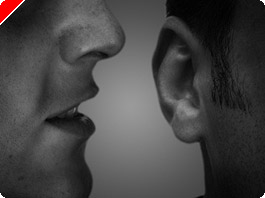 The Poker Whisperer is a well known UK poker player. He will be writing anonymously for UK Poker News to protect his identity and the identity of his sources. The Poker Whisperer always has an ear to the ground, so be careful what you say and where you say it.
Welcome readers.
It's been an interesting old year so far, don't you think?
The Poker Channel launched promisingly, so did Poker Zone and even Poker 425 was watchable for a few minutes, once. Sadly though, TV has taken a hold of our game by the neck and has been gently throttling it by producing celebrity based tournaments.
Bright new websites popped up, Blonde Poker, A World Of Poker (a world? really!) and even The Hendon Mob gave their ghost town a lick of paint.
On the playing front, the bright young things have been taking the spoils. Ben Grundy, David Pomroy, George Geary, all these youngsters have had great years.
Encouragingly, everybody in the UK is now a winning poker player. Gone are the days when even one or two players were losers. Everybody is winning and telling everybody else about it via their "blogs". Are there any blogs actually worth reading? It gets a little boring reading the same old stuff about "ZeeJustin" and his latest $450,000,000 win on Party Poker.
I feel at this point I must congratulate Peter Andre. What a year it's been for the pop star. "Mysterious Girl" is a huge hit once again and the stomach muscle rippling Aussie still finds the time to win the WSOP main event, in between bedding Jordan. Good on yer mate!
Tony G. won the European Championships in August but forgot to upset anybody. So he made up for it in Monte Carlo in November by slightly upsetting one or two observers and enraging everybody who didn't see it but read about it. Ram Vaswani, the player on the recieving end of Tony's tongue lashing said, " ". An unusually detailed response there from the Crazy Horse.
Now the year, as is this months column, is coming to an end, I will leave you with a little juicy gossip to see you through the Christmas period. My sources tell me that all is not well between two high profile players and a business venture they have under taken. There might be smiles on the outside but inside there is turmoil.
Have a great Christmas. Remember, I'm listening.
Ed note: Put $100 in your Christmas stocking by joining Ladbrokes Poker