A Chance To Spar With Mike Tyson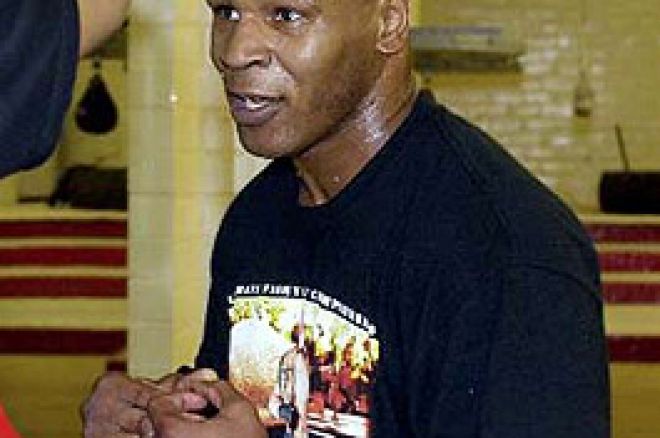 A successful UK businessman is planning a poker tournament which could elevate four winning poker tournament qualifiers to a final table against ex-boxing heavyweight champion of the world, Mike Tyson.
Dominic Marrocco is a 32-years-old self-made millionaire from Yorkshire who made his fortune from computer and internet-related ventures. These days, he spends much of his time in Las Vegas running his current business interests which include a chain of extreme motorbike shops. He also has plans to launch a chain of coffee shops.
Included amongst his possessions in Las Vegas is a mansion that he bought from Mike Tyson and it is this exceptional property that Mr Marrocco is proposing to offer as a prize to the winner of a special poker tournament that he is planning for 2006.
Mr Marrocco is in the process of organising a deal that would culminate in a US-based TV reality show with contestants battling it out at the poker tables in an attempt to qualify for the Grand Final to be held in the grounds of the mansion in question. There would be four lucky qualifiers and another two seats would make up the six-handed final table. This introduces a rather unique twist to the occasion because those two seats would be filled by Dominic Marrocco and Mike Tyson, the current and former owners of the mansion up for grabs!
The attraction of this proposal to the US TV stations starts to become obvious. Mike Tyson is ready-made "box office" material but, as an added sideshow for TV viewers, there would be the considerable tension surrounding the prospect of Mike Tyson winning his old pile back or Mr Marrocco keeping it for himself.
Another question sure to be on viewers' lips is whether the other four qualifiers will have the courage of their convictions when faced with a decision to put Mike Tyson all-in! How will they cope with the Tyson stare?
If it comes off, this proposal has the potential to make intriguing television. Let's just hope the TV executives do not suffer a bout of celebrity overkill and suffocate the poker coverage. If they get the balance right, it should be a knockout!
Ed note: Knock yourself out with a £25 new player bonus at Bet Direct Poker