An Interview With Julian 'Yo-Yo' Thew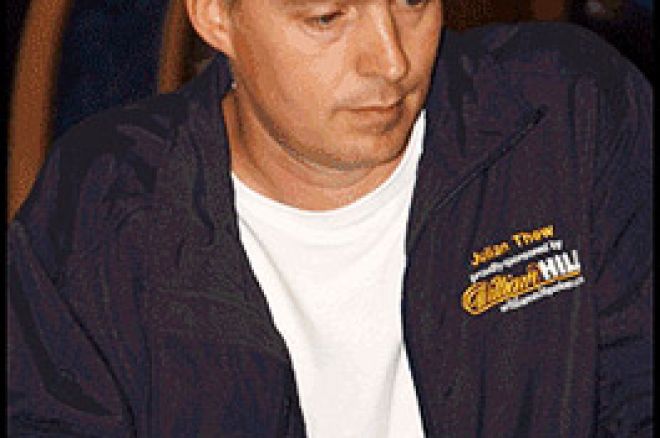 Julian "Yo-Yo" Thew has been causing quite a stir in UK poker circles in 2005, with a great year almost behind him, he took time from his busy schedule to talk to UK Poker News.
Hi Julian. Where are you right now?
Sunny St Kitts, taking part in the Caribbean Poker Classic.
It's been a heck of a year for you. Starting with a £48,000 win in January
in Luton. Is that the highlight of your year so far?
Definitely. Winning the main event at Luton is still the high point. Ten
months on and the money that can now be won out there has snowballed and
there seems to be six figure sums up for grabs every week.
As a William Hill sponsored player, what are your duties for your sponsor?
I enjoy writing a weekly diary; other than that it's just a
case of showing up at as many festivals as I can, logo'd up, best face
forward..it's pretty tough.
Do you fit much online play in between all the travelling around?
My online game is poor at best and as yet I haven't really had the time to
work on and improve it.
What is your online nickname at William Hill?
yoyo
How did you get the nickname "Yo-Yo"?
Stack goes up, stack goes down, stack goes up, stack goes down..you get the
picture.
With 2005 coming to an end, what are your hopes for 2006?
To get better, win more titles & pay off the mortgage.
How can the UK poker community improve in 2006?
Bigger card rooms are a must as is a governing body to standardise a set of
tournament rules.
Finally, any tips for any aspiring pro's?
I think it's very easy for the younger player to expect too much too soon;
we all hear how much so and so is winning online and we see how much can be
won in the big EPT events. It's very easy & tempting for a new player to get
a couple of wins under their belt and think they are invincible. Move up
slowly, manage your bankroll carefully and try to watch & learn off the
players who are doing well.
Thank you Julian. All the best for the remaining tournaments in 2005 and the New Year.
[I]Ed Note: You can get paid to play poker at [URL="/william-hill/"]William Hill[/URL] too.