European Poker Player Of The Year 2005

Paul Sandells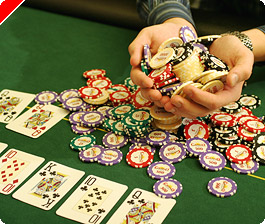 The William Hill Poker sponsored, European player of the year 2005 is dominated by Britain and Ireland this year. Andy Black, Dave Colclough and John Gale are all up for awards.
Come January 8th 2006 we will know who has claimed the honour of European player of the year. The judges will make their final decision on January 7th, at the famous Aviation Club de Paris, France.
Alongside the player of the year award, William Hill Poker will also present the prize winners of the 2005 European rankings. The sponsor has added £20,000 in prize money to the 2005 rankings. Players topping the lists will each get a chunk of the cash.
Just to keep the awards flowing, a new inductee to the poker hall of fame will be announced by Bruce "Elvis" Atkinson.
The European Poker Player Of The Year awards comprises of five different categories. They are; Rookie of the year, Player of the Year, Outstanding tournament performance, Casino staff person of the year and the Lifetime achievement award.
This years judges are:
Andres Burget
Tiina Korpela
Martti Silanmaki
Bruno Fitoussi
Jani Sointulla
Dave Ulliott
The nominations in full are:
Casino staff person of the year:
Sabine, Aviation Club de France, Paris
Thomas Kremser, IPF, Austria ( Austria )
Edgar Stuchly & Joe Fuchshofer, Casinos Austria, Bregenz
Gerard Serra Retamero, formerly Gran Casino Barcelona, Spain ( Spain)
Thomas Lamtsch, Concord Card Casino, Austria
Player of the Year:
Rob Hollink (Holland)
Andy Black (Ireland)
David Colclough ( England )
Juha Helppi (Finland)
Pascal Perrault (France)
Outstanding tournament performance of the year:
Patrik Antonius
Pascal Perraul
Andy Black
Rob Hollink
Rookie of the Year:
Patrik Antonius (Finland)
Roland de Wolfe ( England)
Peter Gunnarson ( Sweden)
Noah Boeken (Holland)
John Gale (England)
William Hill have already announced their intention to continue it's sponsorship of the European rankings for 2006.
Ed note: William Hill Poker will pay you to play in their poker room, £5 per hour. Check out our William Hill Poker review.