Christmas Poker Sales Rocketing

Paul Sandells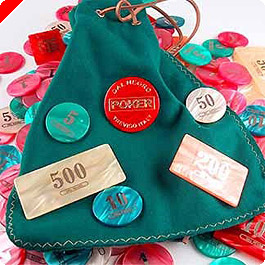 Poker games, cards and chip sets are outselling the more traditional board games in the run up to Christmas, according to some UK retailers.
Poker's popularity continues to explode here in the UK. Especially so in major high street stores as we approach Christmas. Gone are the days of Monopoly, Charades and Scrabble. Poker has dusted down it's seedy, back street image of yesteryear and is moving into the living rooms of families up and down the nation.
With TV stations showing Texas Hold 'em around the clock, high profile celebrities and even higher prizes, poker is quickly becoming a national pass time. No wonder then, that the high street is embracing the poker boom too. Almost every major chain store now has a chip set, poker strategy books or dvds and even poker tables for sale.
Mike Arnott, Tesco's toys senior buyer said "It's part of a wider trend for more interactive games in the home."
"Last year we saw a big increase in sales of traditional board games like Monopoly and Cluedo. This year they are continuing to do well, but we are seeing poker coming through.
"Families have less time to spend together, so when they do they want quality time interacting with kids, rather than having children upstairs playing on computer games."
Louise Williams, gift buyer for John Lewis dept stores concurred "Poker games are proving very popular and in some cases are outselling more traditional board games. Sales for all of our poker products are up 145 per cent on last month."
So, Christmas dinner has left you bloated, you've heard the Queen's speech. Time to shuffle up and deal?
Ed note: Get a handy £25 bonus at Bet Direct Poker this Christmas.