No Stopping Barry Hearn

Tony Bromham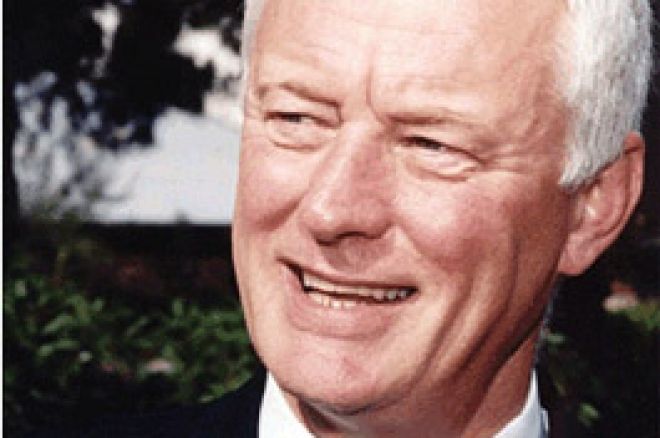 Snooker, pool, boxing, football, darts, golf, tenpin bowling and poker. These are all sports and pastimes that have benefited from the entrepreneurial spirit and enthusiasm of Barry Hearn and his Matchroom Sport empire. Being in control of Leyton Orient Football Club might test his patience but it doesn't dent his drive on the poker front.
Hearn plays poker with skill and cunning, as was seen on our TV screens earlier this year in a famous duel with Soccer AM presenter, Helen Chamberlain, during the heats of the Ladbrokes Poker Million on Sky TV. He was vanquished by the eventual runner-up on that occasion but that doesn't stop him at what he does best - promotion of new tournaments.
Right now in Las Vegas, the first Global Poker Challenge is taking place in the form of a $5,000 buy-in double shootout involving 100 players, 10 from on-line qualifiers, and a total prize pool of $500,000. This is a combined promotion for television by Matchroom partnering with a US-based on-line poker room. Individuals will battle it out but with the added incentive, and perhaps the tension and pressure, of also representing a team. The premise is simple. It is the USA versus the rest!
It is easy to forget how pivotal Barry Hearn has been in dictating the direction of televised poker in the UK. Yes, the first mover was undoubtedly Channel 4's night-time red-eye spot of "Late Night Poker", showing recorded action of some of Europe's finest of the time in a TV studio. But what Barry Hearn visualized and realised was live action. We got it in the form of the, now famous, inaugural Poker Million, live from the Isle of Man in 2000. It was enough to propel the eventual winner, John Duthie, to poker stardom. How strange that fate decreed that John Duthie himself would go on to organise the European Poker Tour.
If poker is to flourish as a live medium, it needs characters to fill the spaces between good hands. They come to us in the UK via knowledgeable commentators, not least in the form of the incomparable Jesse May, and the larger than life shakers and movers like Barry Hearn.
In an interview last year between the two of them, Barry Hearn said this to Jesse May;
"Though the game is now played at an unsurpassed standard, there is still a danger of players getting above their station. Poker can evolve to that, but there's no Tiger Woods as of yet. Poker is too open. The players need television and television needs players."
"In two years' time, we'll have an internet tournament with a $100,000 buy-in, and when the field is reduced to 72 players, they'll be on television."
Plenty to look forward to then!
Ed note: Sponsor your own future at Ladbrokes Poker and claim a $100 bonus