Women in Poker: Interview with Rhowena Colclough

Tony Bromham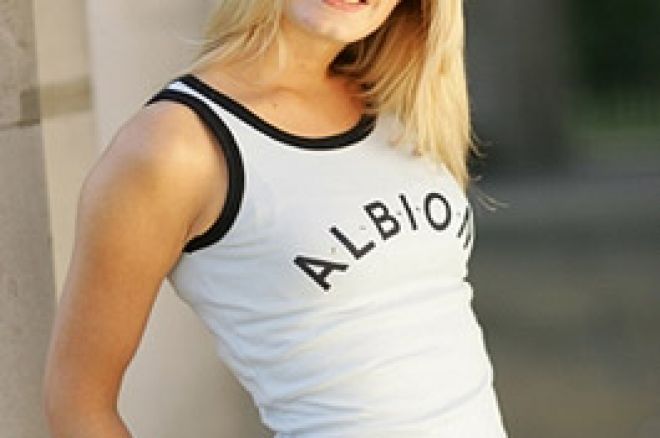 Scottish-born Rhowena Colclough is one of the more glamourous faces on the well-known TV programme, Poker 425, and is also behind the scenes at Blonde Poker with poker hubby, Dave Colclough, one of Europe's leading players.
Hello Rhowena, thank you very much for taking the time to talk to me. You are married to Dave Colclough, one of the top European poker players. We are not here to talk about Dave of course (so I'll get the "Dave-related" questions done first!), but do you get involved in Dave's poker business affairs at all or does he manage that aspect himself?
He manages most of that himself. I help out with stuff like organising shirts to be embroidered, admin stuff and such like. And of course I am a partner in BlondePoker which we set up together with Tony Kendall. That I am very involved in.
Did you go over to Las Vegas while Dave was there at the WSOP 2005 and, if so, did you play poker yourself while there? What did you make of the huge venue and the whole spectacle?
Yes I did indeed travel with Dave to Las Vegas. Couldn't miss out on that one! I did play a little, though there weren't many games small enough for me really at the Rio itself so I didn't play as much as I usually do when I go to Las Vegas. I much prefer the downtown location. Rio was very nice and all but it just didn't have the same atmosphere.
I have read that you play mostly on-line and perhaps a little casino and home games. Do you have ambitions to scale the heights of big-money tournaments?
It would be nice but I just don't play enough so no not really. And I have a rubbish poker face!!
With poker becoming so popular, there are many women now playing the game, on-line and in casinos. Despite this there are also a lot of male players who have sceptical non-poker-playing wives and girlfriends! As someone who understands the attractions of poker, what would be your general advice to these ladies?
I can understand why they may be concerned. I would suggest they try it out for themselves. As Bambos's wife said to me the other night at the Vic, "if you can't beat them, join them!"
There are some wonderfully successful women players about today. I immediately think of Jennifer Harman and Annie Duke, to name just two high-rolling Americans. Closer to home, which UK women players impress you or you feel may be destined for greater things and why?
Isabelle Mercier. Isabelle has a great stare she gives that makes men quiver in their seats. And the way she handles her chips is very cool.
Apart from the playing side, what other aspects of poker are you currently involved with and does television play a part? If so, what is your role in the TV side and is it something you will continue to do?
Alongside Blondepoker, I am presenting for poker 425. It's a weekly magazine and chat style show covering the latest tournaments in Europe. I interview players and
talk to the finalists at tournaments. I really enjoy getting to know the players better. It is something I enjoy very much and hope to expand in this area.
Finally, outside of poker, what do you do to relax? I am making the bold assumption that full-time poker isn't always relaxing!
You're dead right there! Dave and I both scuba-dive, and because we travel so
much we actually really enjoy to just chill out at home playing X-box against each other and going to the cinema.
Rhowena, it has been good talking with you. Good luck to you and Dave and thanks again for your time.
Rhowena can be seen at most major European poker festivals alongside Blonde Poker and the Poker 425 television crew.
Ed note: Download Purple Lounge Poker and claim a huge $1000 bonus when you make a deposit