UK Builder's $500,000 construction

Tony Bromham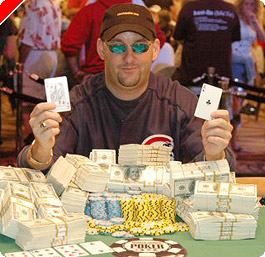 A 46 year old builder from Croydon in the UK, Ian Frazer, has proved that once again the internet can overcome poker fame and experience. Frazer took the first prize of a massive $500,000 at the 888.com UK Poker Open held in Maidstone, Kent. He got there by qualification through an internet satellite.
Frazer has played on-line for only two years, learning the game from scratch. He says he has a good record in qualifying for finals on-line but this was the first time into a TV stage of a major tournament. There were 108 players in the TV heats and Frazer came through unscathed, even telling the TV interviewer before the start that he felt confident of going on and winning.
At the final table of six players, Frazer was up against some grizzled live poker veterans such as UK sports promoter and poker regular Barry Hearn and UK professional, Julian Gardner, but his main foe on this occasion was the holder of a WSOP 2005 bracelet, American pro, Brian Wilson. Wilson picked the bracelet up in the $5,000 Pot Limit Hold'em event at the WSOP and came into the final table here as chip leader and clear favourite.
Slowly but surely the other players were eliminated. However, it was Frazer who accumulated the largest stack by some distance and he had a commanding lead over Wilson's chips by the time of the decisive hand. Frazer's pair of 6's overcame Wilson's Q 10 and the $500,000 was heading to Surrey. Meanwhile, Wilson's runner-up spot earned him $150,000 which softened the blow of missing out on another professional title.