Online Poker Cheating?

Paul Sandells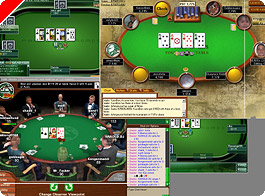 Online poker and gambling is set for a rough road ahead according to infamous casino cheater, Richard Marcus.
Marcus, now retired for his 25 year reign of terror over land based casinos, claims that sophisticated software is already in place, scooping huge amounts of money for it's owners.
"There is lots of cheating going on," said Marcus.
"Shortly we are going to see about one in a hundred people playing honestly. The rest will be using bots or it will be computers playing against computers."
Marcus retired prior to the boom in internet gambling. He is instant, though, that the new era holds even more rich pickings for those with enough know-how to take advantage.
A spokesman for Party Gaming PLC, the company behind Party Poker, held a different point of view though and was recently quoted as saying "I can't speak for other sites but the people sitting there on our virtual poker tables are very real."
"When it comes to bots we are able to detect them and when we do we will close down the accounts and seize the funds," he said.
Although, admitting that some players will always try to cheat, the spokesman was quite confident that his company will be able to detect any unusual activity.
Marcus concedes "the people with unsophisticated bots can and will be caught. It's the really sophisticated stuff that has a mind of its own the poker rooms need to worry about."
Richard Marcus' new book, Dirty Poker, is released in the UK in early 2006 and looks set to be one of the most controversial poker books of the year.
Ed note: Beat the bots and everyone else at William Hill Poker and earn £5 for every hour you play up to 5 hours