'Jac Attack': An Interview With Jac Arama

Paul Sandells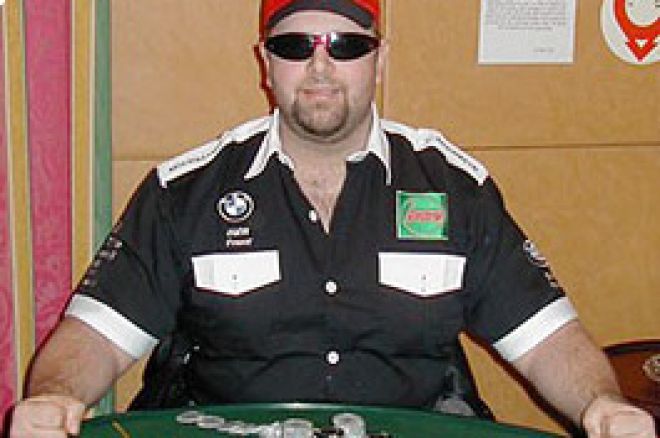 Jac Arama talks about UK poker, his colourful outfits and reaching 40 years old to uk.PokerNews.com.
Jac Arama, is one of the most colourful characters on the UK & European Poker Circuit. First brought to prominance on Late Night Poker with his vast array of hats and sunglasses, he is also a fearsome competitor, willing to put all his chips in if he believes he is ahead. He lead the European Rankings in both 2000 and 2002 (where he finally finnished 5th and 2nd) and was nominated for 'Poker Personality of the Year' in 2002 European Poker Awards. Also in 2002 Jac won the 'Great Britain Holdem Poker Championship' in Birmingham, followed in 2003, when Jac Won the main event in the British Open, beating over 200 players to become 2003 British Open Champion. Jac has homes in both Brighton and Kensington in London. Having divorced in 1993, he married for the 2nd time in 2003 to his wife Diana and Jac's 6th child Estelle was born in June 2004. Jac's other hobbies are Backgammon and motorcycling.
Paul Sandells recently caught up with him after this year's WSOP.
Paul> Hi Jac, thank you for talking to me. Where are you right now?
Jac> Finally back in London having spent what seems like forever in Las Vegas.
Paul> You are one of the more colourful characters on the European poker circuit, are the hats and shades for poker only? or is that your general day to day wear? ;-)
Jac> I own over 300 pairs of sunglasses. However, I tend to have fun in the televised events or charity events. If I'm just popping down to the Palm Beach club or Grosvenor Luton, I tend to be less eccentric.
Paul> You have an impressive record of victories in UK and Europe. Is there one result that stands out for you, if so why?
Jac> Winning the British Open was great, because it was a 'Freezout' and I upped my game and made some very good calls.
Paul> Looking at your profile, I see you recently hit the big Four - Zero. Does life begin at 40?
Jac> Give me back 25! I don't have the immense energy I had in my 20's, but I enjoy life both on and off the poker circuit.
Paul> What do you think about poker in the UK in general at the moment? Are there any areas which need improving?
Jac> There are so many tournaments now and no fixed rules. In some casino's a situation might come up twice in one evening and get 2 different rulings. It's good to see people like Thomas Kremser working to Set the rules in concrete.
Paul> Where is your favourite UK card room?
Jac> I like the Palm Beach for atmosphere. They treat their customers well and are eager to build their cardroom. I also like the 'Equal Chance' club in Walthamstow. Although it is quite a way from Kensington, they are very friendly and hold tournaments every night, so I try to go there when I can to support the club.
Paul> Do you play much online, if so what nick names can we find you using?
Jac> I play a little. I first played on Pokerstars in November 2004 from my hotel room in St. Maarten (because The St. Maarten tournament that night was 'Limit' Holdem - Ugh!). I came in 2nd and won $83,000. I now play occasionally as 'PokerfaceJac' on some sites and 'LondonJac' on others. Someone else has registered as Jac Arama. I still much prefer live poker though.
Paul> Would you say it is easier or harder to turn full-time poker professional these days?
Jac> Probably harder. There are a lot more players now, many of exceptional skill. Having said that, the winnings are much bigger now!
Paul> What does your schedule look like for the next few months?
Jac> I am currently helping to organising a big Pot Limit Holdem tournament, so I am trying to take a break from poker. (Trying being the key word)
Paul> Finally, if you could give one piece of advice to new comers to B&M tournament poker, what would it be?
Jac> Pick up tells on the other players at the table and play position and your instincts aggressively.
Paul> Thank you Jac, have a great day.