Dead or Alive 2 Slot: Play Online with Free Spins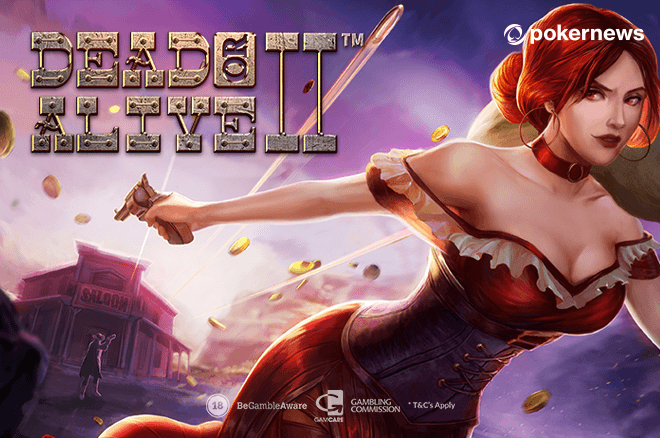 Ready to head out for a cowboy adventure in the wild west? The Dead or Alive II Slot can take you there and a little bit further.
Dead or alive, you'll want to partake in everything this brand-new slot has to offer:
A smooth & satisfying revamp of the original made by the slot-savvy developers down at NetEnt
5 reels and 3 rows of fun, featuring 9 distinct paylines, high volatility, and an RTP of 96.82%
Wilds & sticky wilds, scatters, and free spins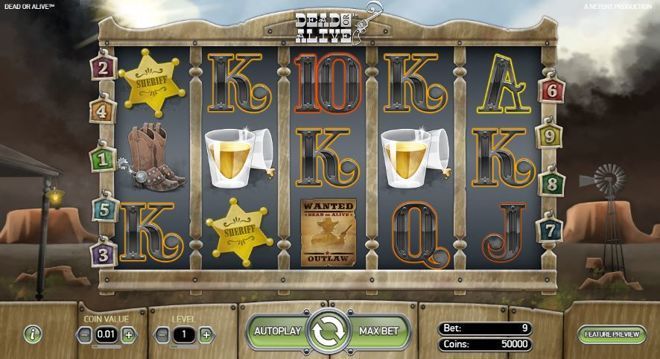 Want to find out more? Let's get down to the nitty-gritty details of this popular slot machine game.
Dead or Alive II Slot Review: Everything You Need to Know
Remember the original Dead or Alive slot? It was a classic, and that's probably why it got a revamp. But unlike some other sequels, this one might just go even harder than the original.
Though much has remained the same, die-hard fans of the previous Dead or Alive Slots will be surprised at what has changed.
New features, even more free spins, and new graphics are all to be expected in one of the most long-awaited new Sots of all time.
Graphics, Theme, & Symbols
Picture this: You've just gone on a heist, and now it's time to escape with the rest of the gang. You, Billy the Kid, Jesse James, Belle Starr, Della Rose, and the Apache Kid must flee to safety.
You're right in the middle of the action, and you can almost feel the wind at your back as you ride your horse off into the sunset of freedom, humming along to the western-style saloon soundtrack Netent provides.
When you manage to land on a winning combination, you'll be rewarded with a rollicking barrage of gunfire as you collect your winnings.
Shouts of "yee-haw!" pepper the screen throughout the game, along with the riveting sounds of the lasso, rattlesnake, and gunfire.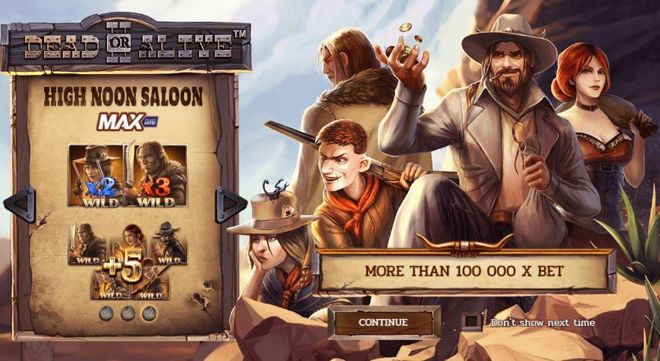 Sound good? It is. What's better is that although the graphics are high-quality, the symbols aren't overly-complicated.
The lower denominations are still represented by the playing cards 10 through Ace, while the higher-paying symbols are the whiskey bottles (and the glass to go with it, of course), cowboy boots, a handgun, a cowboy hat, and a sheriff's star.
The wild symbol is a wanted poster, which changes to reveal one of the 5 characters in the free spins feature round.
All of the characters bring you the coveted wild, replacing any other symbol on the board to give you the highest winning combo. The scatter symbol is a pair of colts, and you'll need at least three to trigger a bonus round.
How to Play Dead or Alive II
The Dead or Alive II Slot isn't difficult to play. In fact, with Netent's usual user-friendly features, it couldn't be easier.
The bet limit is .09 coins, opening up playing possibilities to everyone. It tops out at 19 coins, making this a friendly game for high-rollers as well.
Once you choose your amount, pick your lines, place your bets, and saddle up your horse. You're ready to spin your way through the wild lands.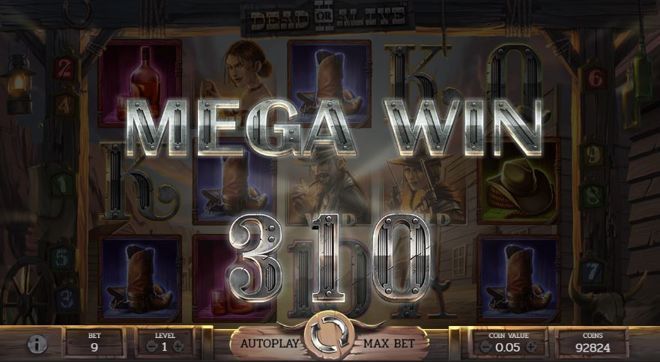 Special Features & Bonuses You'll Love
Though the Dead or Alive II Slot is a simple game to play, it isn't boring.
We have NetEnt and their endless menagerie of special features to thank for that, and this time, they've chosen to reward us in the way we like best—with free spins bonus rounds.
You may remember Old Saloon free spins from the original Dead or Alive Slot. It's the exact same feature, but the new game also has an extra set of bonus spin games which can't be beat.
That brings it up to three special rounds of free spins in the game, each one wilder than the last.
These rounds are activated when you land on three Scatter symbols, and each one gives you 12 spins. You can then choose which of the three games you'd like to take part in.
You might remember that the original Old Saloon bonus round from the original game gave you a chance to win an additional 5 free spins. That was a fan favorite, and it's also possible with all of the new bonus games.
So, what exactly are these beautiful bonuses? Let's take a look.
Old Saloon Free Spins
Old Saloon free spins is the feature we all knew and loved about the original Dead or Alive. When you land on a wild symbol with Old Saloon free spins, it will automatically turn into a sticky wild.
This means that your wild won't disappear over the horizon with the tumbleweed when it's time for the next spin—instead, it will stay on the line for the duration of the bonus game.
When you spin, you can rest assure you'll be enjoying a 2X multiplier for each and every win. If that's not enough, the wilds themselves can act to give you extra spins.
If you manage to have the wild symbols land on each of the 5 reels, that will give you 5 extra spins.
Train Heist Free Spins
Train Heist free spins are a brand-new feature in the revamped slot game, and they boast a multiplier of up to 16X. Each time you hit a wild symbol, the multiplier will increase by 1X, and the payout on your next spin will align with that new multiplier.
This will go on until you either use up all 12 of your free spins or you hit the max multiplier of 16X.
If you do manage to land that coveted 16X mark with your 12 free spins, you'll be awarded an additional 5 free spins. These will be paid out with the maximum multiplier of 16X.
High Noon Saloon
High noon saloon invokes images of barroom brawls and wild western gunfights. This bonus feature is full of the infamous sticky wilds.
High Noon Saloon also happens to be the most volatile part of the entire Dead or Alive II game, the place where the potential to win 100,000X your original wager comes into play.
High Noon Saloon is similar to Old Saloon, in that any wild landing on the reels instantly transforms into a sticky wild. Not only that, but if you manage to land more than one wild on the same reel, the wild will transform into multipliers.
The second wild will act as an extra 2X multiplier, and the third will act as a 3X multiplier. You'll also have the chance to receive 5 free spins at the end of the round, if you happen to land a wild symbol on each reel.
Play Dead or Alive II Online
There are plenty of reasons why the Dead or Alive II Slot is one of the best games of 2019.
Fans of its predecessor have found their expectations met and exceeded with strong visual and video graphics, exciting gameplay, and a sweet soundtrack you just can't help but groove along with.
The high variance only adds to the game, but it's not undercut with complicated wheeling and dealing—you'll find that everything is simple, usable, and exactly where you need it.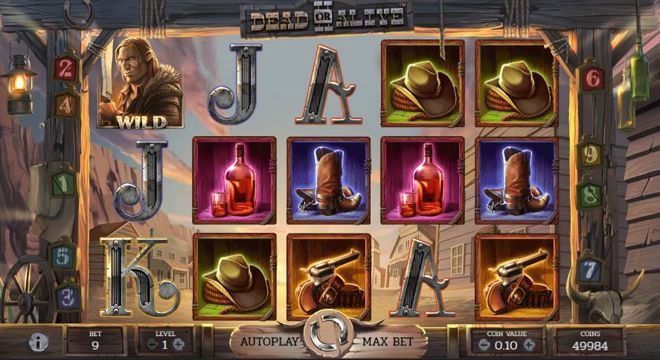 Furthermore, the 96.82% RTP serves to increase the attractiveness of this game.
This slot is fast-paced, adventurous, and chocked full of features, yet well-designed and organized to give each aspect of the game a sense of belonging.
On behalf of slots players everywhere, we'd like to say yee-haw.
The promotion presented on this page was available at the time of writing. With some Casino promotions changing on daily basis, we suggest you to check on the site if it still available. Also, please do not forget to read the terms and conditions in full before you accept a bonus.